Now, You can Enjoy Android Q 10 on Xiaomi Mi 5 with the help of Project Treble. Great News. Isn't?
Ok, dive into below guide to know in details. This is the perfect guide to install the Latest version from Google. I performed all the procedure shown in this Blog post and briefly described the possible Errors and their remedies. You don't need to worry about your phone. It's working flawlessly with this Android Q Project treble ROM.
Android Q 10 is the latest Android Version by Google developers. Even they have revealed the name of the version recently. Google didn't yet name this version and they say "this one hard". Meanwhile, Android Q is still in the beta stage about 5th one and work is in progress until the final release.
Even though it is in beta stage, some of the enthusiastic developers in XDA forums has ported this Android Q to some of the Snapdragon Project Treble devices. In that list, our device Xiaomi Mi 5 also got eligible for the Android Q 10 Project Treble.
Yep, you heard it right you can Download Android Q for Xiaomi Mi 5. This is the Good News for Xiaomi Mi 5 users who are bored with MIUI 10 all the time. Even, Many of the features are available in MIUI 10 looks Android Q style.
But then a lot of bloatware will kill your RAM and performance. Developer erfanoabdi Ported this latest version to Project Treble Supported Devices which are A-Only and AB Devices.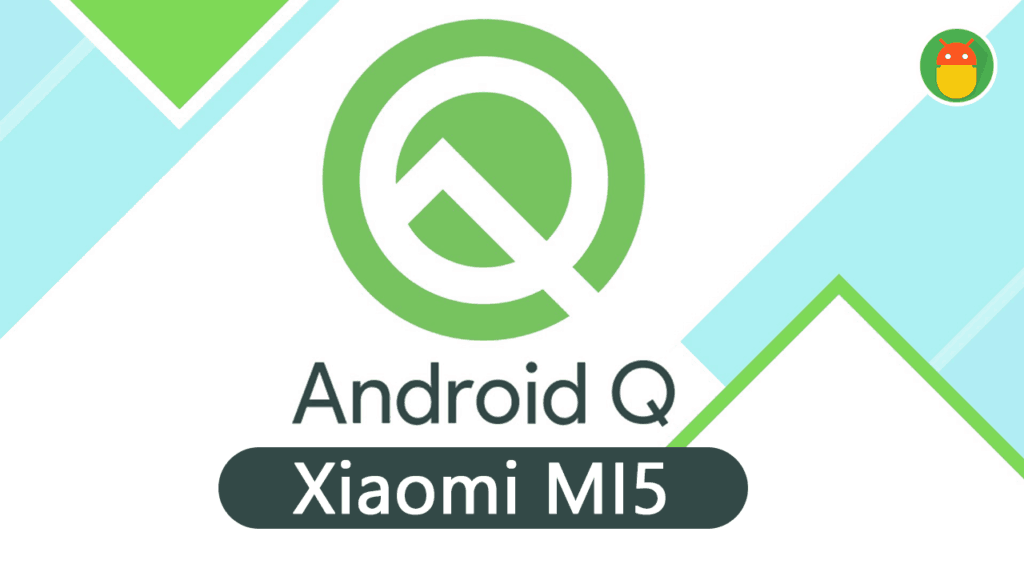 How to Install Android Q 10 on Xiaomi Mi 5
To install this Project Treble ROM, We should install TWRP 3.3.1-0 or higher on our device. Only this could handle the Project Treble ROM's. Before going to proceed below are some requirements to install Android Q 10 on Xiaomi Mi 5 device Successfully.
Currently, Xiaomi Mi 5 Treble Project is developing by smeroni68 under JDCTeam. Our device is ARM 64 A-Only device. So, We should Download A-Only GSI (generic System Image) for working Android Q 10 on Xiaomi Mi 5.
You may Like: VirtualXposed Guide
Requirements
TWRP 3.2.1- 1 or Higher
Maintain 80% Battery charge
Android Q ARM64 A-Only GSI (Generic System Image)
Qualcomm treble Supported Device
Downloads
Global Bugs
Step by Step Guide
Step 1: At first, Download All the files from the Download Section.
Step 2: Extract Pixel-Aonly-10-20190711-ErfanGSI.7z file using any Zip file Extractor (Recommend Es File Explorer).
Step 3: Reboot into TWRP Custom Recovery Mode and Swipe Allow Modifications (If Appears)
Step 4: Tap on Wipe Button from the Home of TWRP. Head Over to Advanced Wipe and Check the Dalvik/ART cache, cache, System, Vendor, and Data.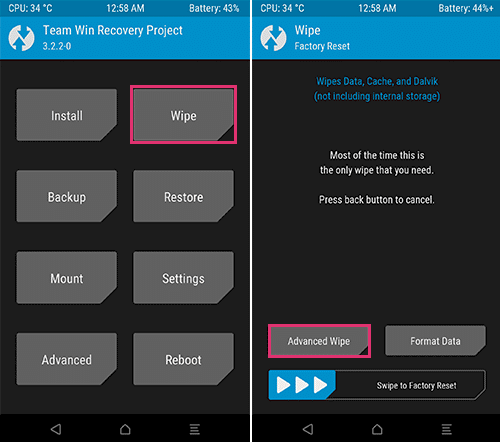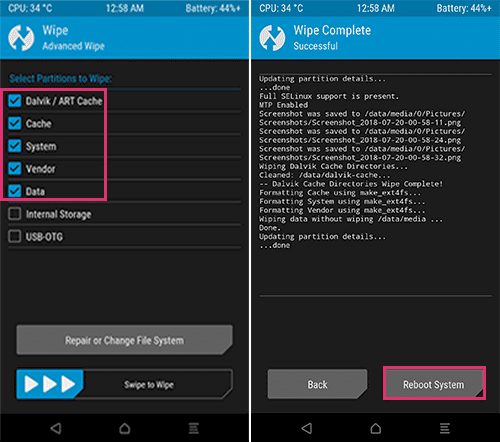 Step 5: Now, Back to home and Click on Install Button. Navigate the Files which you have downloaded from the Above section.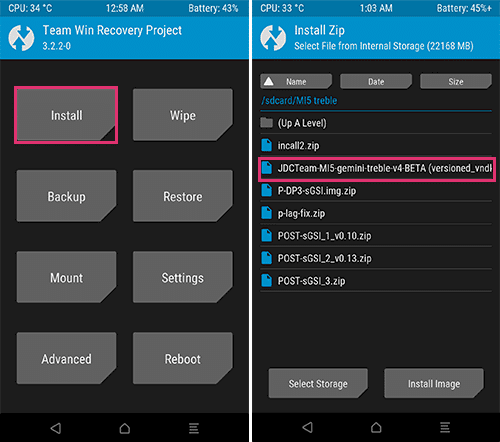 Step 6: Flash JDCTeam MI 5 Gemini Treble.ZIP file at first by Clicking Swipe to Confirm Flash.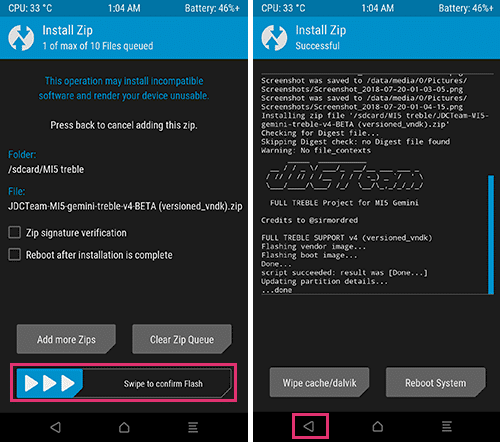 If you got any error while installing this JDCTeam MI 5 Gemini Treble.ZIP file, then flash this MIUI Firmware before Flashing anything
Step 7: Now, You need to flash .img file. So, Tap on Install Image Button which is at the Bottom of the Screen to show up the .img files.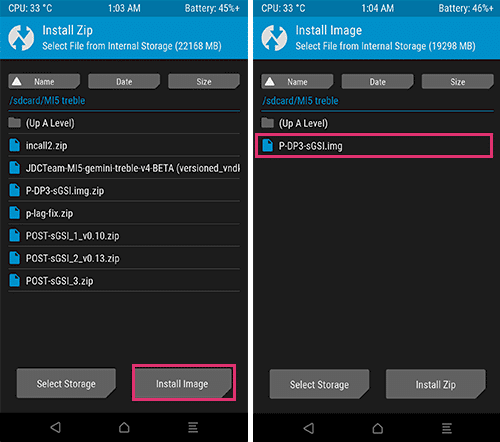 Step 8: Flash Pixel-Aonly-10-20190711-ErfanGSI.img file as a System image and Go back home.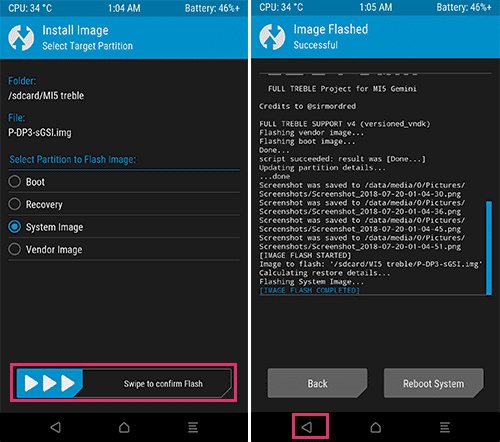 Flashing Remaining Zips
Still, 2 zips are left to flash. You need to Install them as per the order for getting Android Q 10 on Xiaomi Mi 5. It's just a Simple Steps.
These Steps are the continuation of the above procedure
Step 9: Before installing 3 POST-sGSI zips you have to mount some partitions. Tap on Mount Button and Check System and Vendor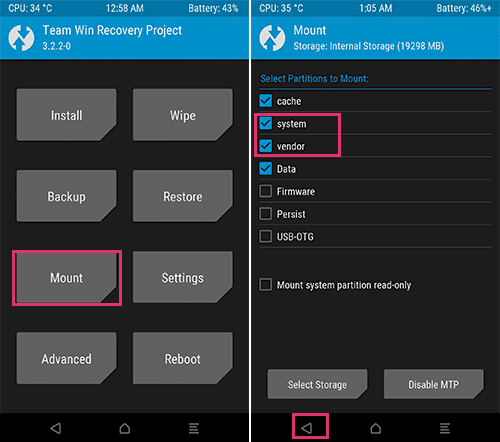 Step 10: Now, Flash Zygot2fix zip and permissiver V4 zip.
Step 11: Flash DP5 lag Fix.Zip file.
Step 11: Again Go to Mount and check the System and vendor partitions.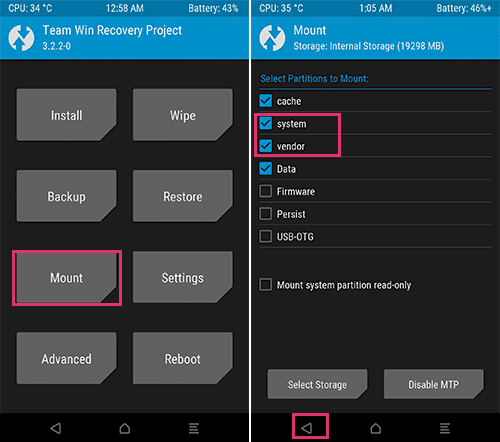 Step 12: Do Reboot.
You may face some weird behaviour of Pixel Launcher like force closing.
Step 13: Boot into recovery mode, Choose file manager there and move vendor/overlay folder to /system.
Step 14: Now, Flash Fix.Zip, Magisk, and Darkness Kernal
Reboot the system.
Getting Error Like this?
If you got this Popup saying "There is an Internal problem with your device. Contact the device Manufacturer" after boot up, then below procedure will help you to get rid of that.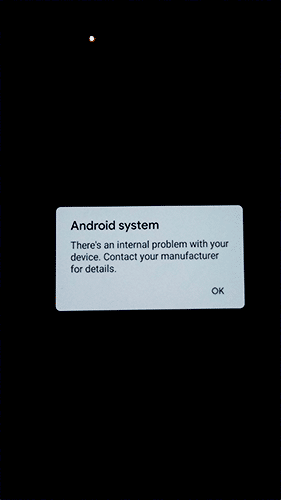 Want to Fix PopUp?
Note: This fix will erase your all data on your Internal Storage. So, better to backup all files including Project Treble files on your Computer.
Reboot your device into TWRP Custom recovery mode. Tap on Wipe and Do Format data instead of doing Advanced Wipe in Step 4.
Now, Send the Project treble files to your Device from Computer and then Follow the procedure from Step 5.
This will remove the encryption on your internal storage. Remove the PopUp and help you to test the Android Q 10 on Xiaomi Mi 5 Device.
You May Like: Download MIUI 10 China/Global Beta ROM for All Xiaomi Devices
Install Google Playservices
You need to Install Google PlayServices to setting up the device. Without these services, you cant able to open Playstore and services.
Download APK from above and Install Manually.
How to Root With Magisk Su
This is an optional step. If you want to root your device, then follow this Procedure.
Ported Magisk v20+ is available for the Project Treble ROM's. You can Download it from here
Flash it via TWRP Custom Recovery. That's it.