Google recently announced its Android go oreo edition for the low-end hardware smart devices. Some of the manufacturing companies are also working with the latest low-end Smart Phones for android oreo go edition. To sell the Smart Phones at low cost.
Micromax Bharat Phone is the first phone come up with the android oreo go in India. Android Oreo 8.0 & 8.1 is the latest version of the Android version. That comes with the beautiful customisations and features.
In today's article, we will tell you that how you can turn your device into Android Go optimised version on Android Oreo and some of the Android Nougat ROM's with Low-RAM Property Patcher mod.
You may Like:- Install Xposed Framework on Android Oreo 8.0/8.1+ (Guide)
What is Android Go?
Already you might herd about the Youtube Go, Files Go by Google, Google Go, and some other. These are the latest projects of Google intending to run these apps on budget devices and older smart devices. Now come to the Android Oreo Go project by Google that lets you run the optimised applications and features on an older Smartphone.
The main Aim of this Oreo Go edition is to handle every task properly on the budget phones (Low-end Devices) or entry-level smartphones without losing some features of the Android Oreo 8.0 & 8.1 framework.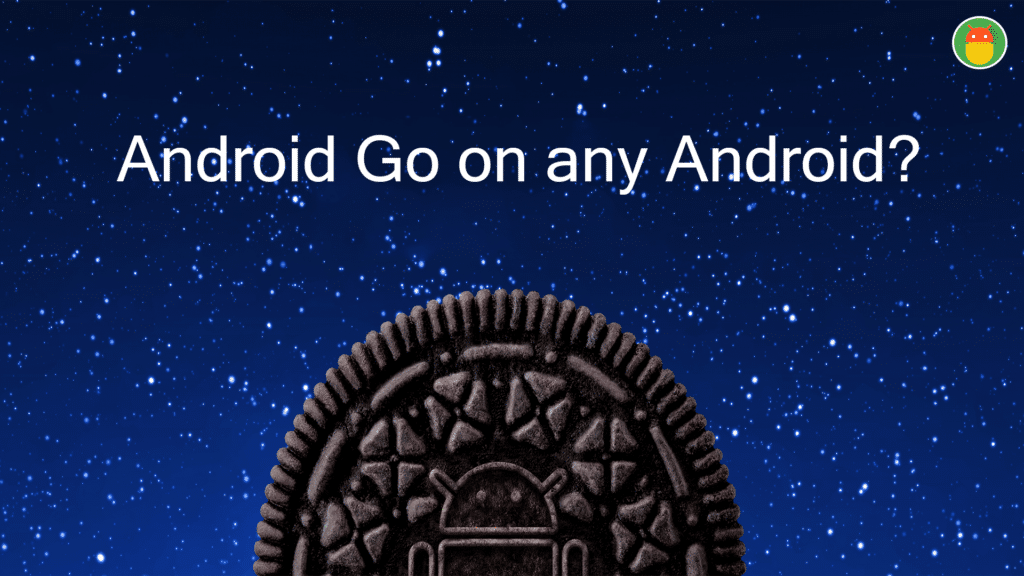 What is Low-RAM Property Patcher?
Low-RAM Property Patcher is the mod for the rooted users to enable the Android Go optimisations on the Current android Oreo ROM on your device without needing of rebuilding it. It has all the optimisations that have introduced on the android go project by Google. Just all you need to do is flash the Low-RAM Property Patcher zip file via twrp recovery.
The xda senior member AdrianDC developed this mod. It will work on the other than Oreo ROM's like marshmallow, Nougat, Lollipop even KitKat. Only if the ROM developers validate the Low ram UI changes.
This will affect the multi-users disabled, Flat recent/multitasking UI, high-end graphics disabled,
multi-windows disabled, less recent apps cache, minor notification icons changes, no apps notifications access/zen access / VR listeners/picture in picture (PIP) accesses, less logger buffer sizes (devs).
Get Android Go on Any Android Device
Is it possible to Any android device? Yep, you read it right, but it is not possible to some of the Android versions and some of the Android ROM's Which are not included the low ram property on their ROM's. Some of the Enthusiastic xda members have tried this mod on the android nougat reportedly it was working fine on their devices. If you are one of them, then give a try to this and let us know in the comments.
Requirements:
Android Oreo
Android Nougat, Marshmallow, Lollipop and Kitkat (Do with your own risk)
Low-RAM Property Patcher
Enable Android Go Optimized Version On Android Oreo
Step1: Download Low-RAM Property Patcher (Enabler and Disabler) flashable zips on your Android device from here – Download | Mirror
Step2: Switch off your device and Turn your device into recovery mode by pressing holding the Power Button and Volume Up/Down button at an instant.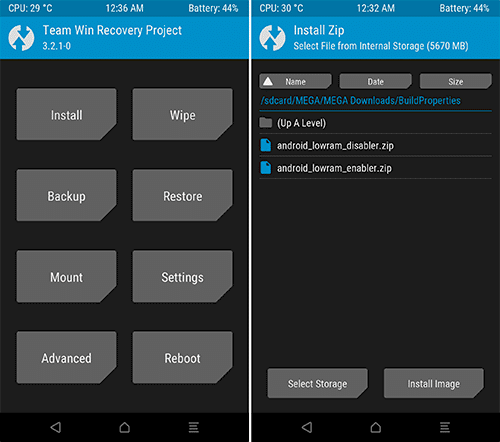 Step3: Now, you are at the home of TWRP recovery. Click on Install button and select the android_lowram_enabler.zip file from the storage.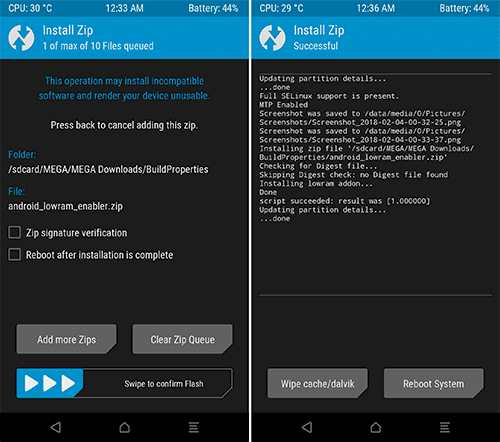 Step4: Swipe the button to flash the android_lowram_enabler.zip. Then do reboot.
Note: If you stuck in bootloop then flash the android_lowram_disabler.zip by following the above procedure.
Final Words:
Finally, you are able to use your old android device smoothly with lite android oreo. do experiments on your device and let us know. I have tried this on MIUI9 developer build but I didn't see any changes while using the device.
Share this article with your friends and help them to know this kinda mod. Further questions ask here we will help you as fast as possible. I will meet you in the next one.
Don't forget to Rate this article