Xposed Framework for Oreo is currently in beta stage. So there are many issues with this beta version. Right? Still, folks who are desperately looking for this Xposed Framework for Oreo in MIUI 9 devices. They can experiment with this one by taking proper precautions. Even Many of the Xiaomi devices didn't get the Oreo 8.0/8.1 update yet. Still, they are working on the stable update for MIUI9 based on Oreo. In this Guide, you will be able to know how to install Xposed Framework in MIUI 9 based on android oreo 8.0/8.1.
You may Like:- How to Install Gapps (Google Apps) in MIUI9
Recently I got the MIUI9 Global Beta Update based on Oreo 8.0 to my Xiaomi MI5. Soon, I started downloading the all required zip files of Xposed Framework Official from the Rovo89 thread. Firstly I tried the latest Xposed Beta3 version on my device, but I ended up with Bootloop. Even one of my reader reported that the bete3 version is not working on his MIX2. Then I got something crazy idea why don't I give a try to remaining versions by rovo89. Finally, Xposed Beta2 working fine perfectly on MIUI9 based on Android Oreo 8.0/8.1. Please try and give us feedback regarding this Xposed Framework for MIUI 9 based on Oreo 8.0/8.1.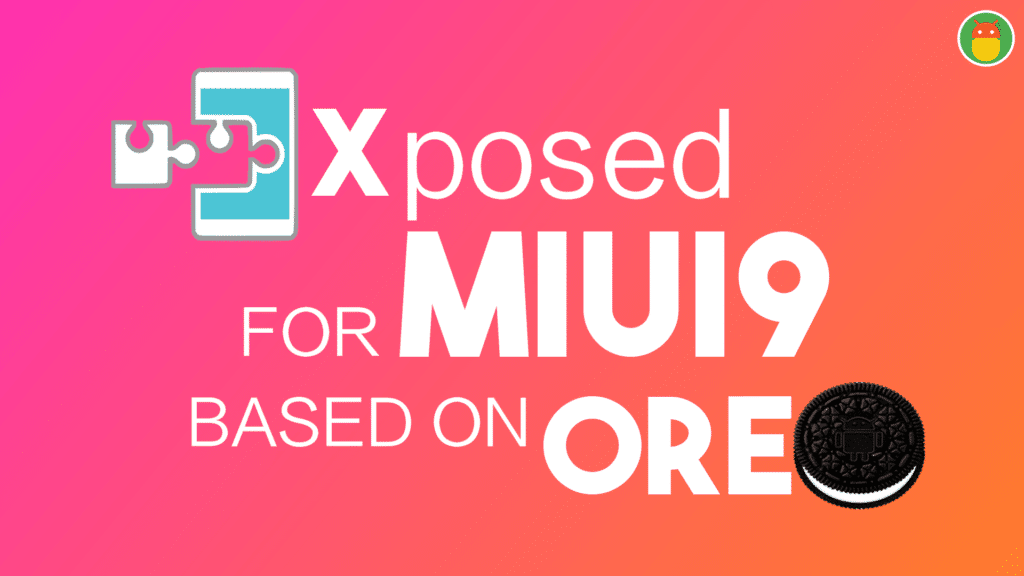 Download Xposed Framework for MIUI 9 based on Oreo 8.0/8.1
Download the Official Xposed Framework for MIUI 9 based on Oreo 8.0/8.1 from the Official Website by XDA Developers and Rovo89. The stable update will be available soon without having any incompatible issues on most of the ROM's (Hoping so).
SDK26 = Android 8.0 and SDK 27 = Android 8.1
ARM, AM64, and x86 device architectures are compactable to this Xposed Version. You need to download Xposed zip file according to the device architecture.
Download Uninstaller.Zip
Always Use the latest Uninstaller this will help you to get rid of Bootloop issue even you uninstall the Xposed Framework for MIUI 9 based on Oreo 8.0/8.1. Download Uninstaller according to your Device architecture.
Highly recommended you to download this Uninstaller.zip to escape from the Bootloop if anything goes wrong.
Download Xposed Installer Apk
Download Xposed Installer apk to manage the Xposed modules.
Install Xposed Framework in MIUI 9 based on Android Oreo
Step1: Download the Required files from the above links and store on your device.
Step2: Install Xposed Installer apk by enabling the Unknown sources in the Android Settings if you didn't enable yet.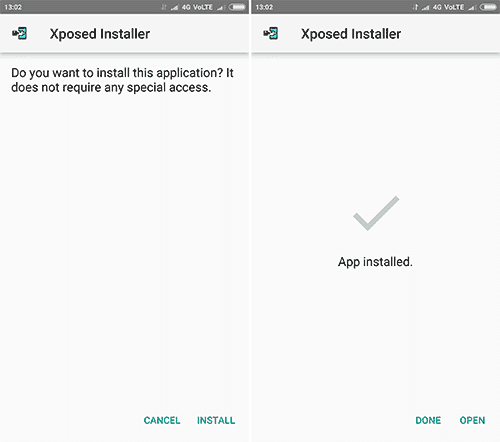 Step3: Open Xposed Installer app and Click on Menu ( 3dots from the right corner). Select the Recovery Option. Now you have a popup asking you to grant the Root access to this app. Grant it.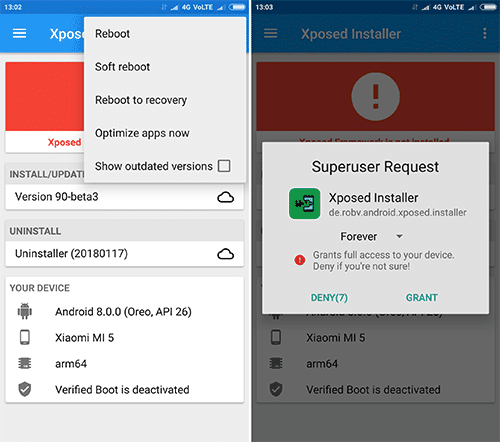 Step4: The device will boot into TWRP recovery mode after complete the step3. Click the Install button and select the Xposed.zip file from the Storage.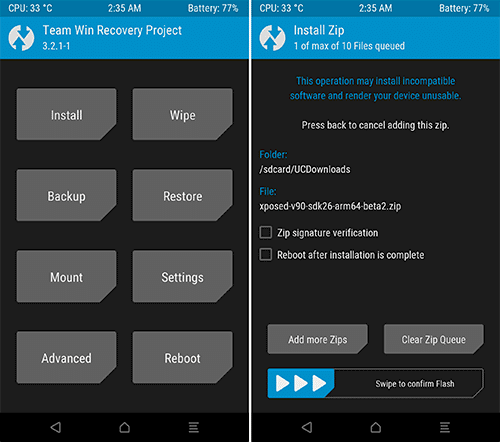 Step5: Swipe the Install button and wait for a minute. It will install completely and finally tap on reboot button. First boot takes more minutes than a normal boot.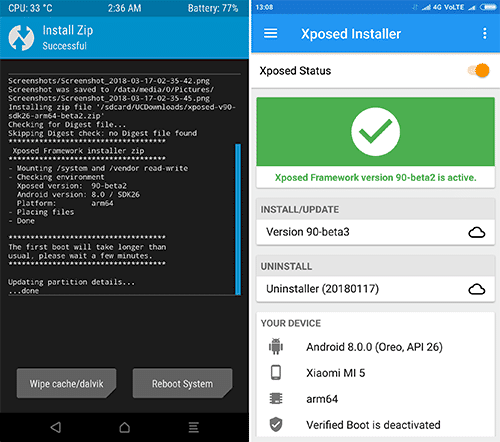 Step6: Kindly wait for 10 minutes, and If you exceeded this approximation then you needed to install Xposed uninstaller zip file through TWRP recovery.
Final Words:
We will update the Xposed Status and working status for our MIUI 9 based on Android Oreo 8.0/8.1 according to the latest builds and News. If you have any further clarifications regarding this article, please comment here, and we will help you out as fast as possible.
You may like:- How to turn your Android device into Android Go Optimised Version
Share this article with your Rooted MIUI 9 friends who have zeal on how to install Xposed Framework in MIUI 9 based on Android Oreo and Don't forget to Rate out of 5 stars.