In today's article, I will show you how to root almost any android device running on any android version without any hassle, all things will be done by just your fingertips. The best part of the method is there is no requirement of P.C and completely safe method with no risk of causing any harm to your android device. It is not only safe method and also no data loss method which means all your apps, pictures, videos, and other information will be safe while doing the process. This is one of the best and reliable methods for rooting Android device with a single touch on KingRoot app.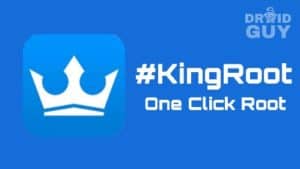 King root full guide
Steps to follow for Root your android device with kingroot:

Step-1 : – Make sure you have enabled the USB-debugging option on android settings before following this method.


Open the android settings, navigate to "About Phone" and scroll down.

You can see the build number of your device, just tap on it about 5-8 times.

Now, go back. You will notice a new setting "Developer Options".

Go through that and scroll down, you will get a USB debugging setting, then tick mark it.

Step-2 : – After completed above steps now turn ON your internet data or connected to WiFi.


Download and install kingroot app Direct Download | Xda-Dev

Open the app and you can see the android logo on the home screen of the app.

Before going to tap on the android logo, just check you have working internet connection and also 50% of battery.

Now tap on the android logo, then rooting process will begin. King root finds the suitable Root binaries to install for your particular device.

Sit back and relax until king root shows up your device is successfully rooted. This will complete under 2minutes 🙋
How to uninstall root:-
Open the settings of the kingroot, which is at top right corner of the app.

Then tap on "Root Authorization setting" and you see the "Remove Root permission" option.

Now you are successfully unrooted your android device 😖
What is King Root?
The Kingroot is the root installer which means install the suitable Root binaries according to your device brand and particular model from the king root cloud. And also king root acts as a root manager for your device, through this, you can easily control the every aspect of the root. King root provides the best user experience, 100% safest method and time-saving method for rooting your android device.
What can I do with Kingroot manager?
1) Root Authentication: – Through this, you can easily control overall roots permissions, which means you can grant or deny the root permission of what all apps, which have got the root permission.

2) Uninstaller šTool: – By using this tool you can get rid of preinstalled apps on your device, which you cannot uninstall normally. This will help you to free up some space on internal memory. But very careful while uninstalling the system apps that may affect your device functionality.

3) Auto Start Manager: – This will help you to disable the background running apps for speed up your android and saves battery
Final Words: –
Rooting will helps you to run some of the special apps to make changes on your android with the help of Xposed Framework, tweak the games, wifi, install custom ROMs, etc, This is our one of the best tutorial as I think😝. Feel free to comment below if you have any questions regarding this article, Contact Us on Facebook Page | Group | Twitter. Keep visiting 😀