"You always forget. Why trust with any work?"; "Please, don't forget this again!" We all hate to listen to this, be it from your boss, your friends or your dear ones. Nobody wants to forget things, but in a world full of distractions, and stress, we tend to forget things. We all sometimes want to have someone who can remind us to do things. Though it isn't possible all the time, you can always find technology to do so. And the simplest of such technology is to set a reminder. Hence, setting a reminder can be highly effective. Also, research recommends making a list of essential things to remember them!
Android is the most used platform across the globe. And, there are tonnes of great reminder apps which can help you, to be reminded of things to do. Following are the best ones from the lot.
1. Any.do
Downloaded over0 million times, shows why this app is the best out there. Any.do lets you to create To-do lists, set reminders on a calendar, set reminders for the day, and also allows you plan. It has a clean UI with and comes with Material Design. The best part of Any.do is the availability of this app across platforms and their seamless syncing. With this app, you will be notified while using mobile, PC, web or tablet. You can also share your lists. Its home screen widget is too powerful and lets you do a lot without opening the app. It is an all-in-one app for reminding.
2. Todoist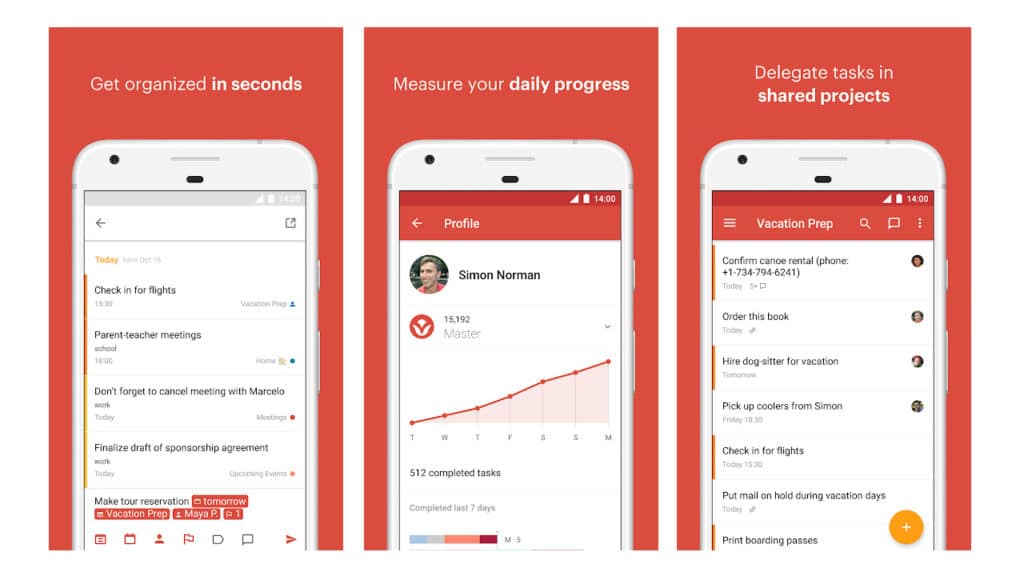 It has been downloaded by over 10 million people. You can keep track of everything, with this cool app. It is also a cross-platform and once you sync it with all your devices, and even browsers, you can get notified all time. Labels and filters sort all your reminders into groups and let you prioritize your work. There is a 'Karma' feature which helps you complete daily and weekly goals. It can be integrated with 60+ apps can significantly help you in reminding. It supports ten platforms and up to 20 languages across devices easily. With the premium version, the app gets a whole lot more features, and that is the only negative point in this app.
3. BZ Reminder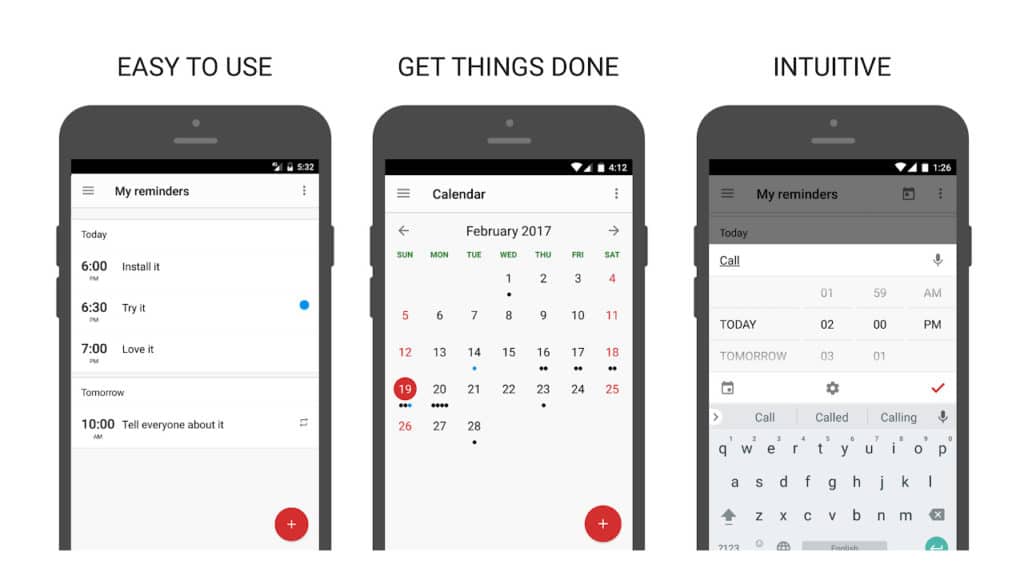 This app by Atlas Profit is an excellent app for straightforward reminders and to-do-lists. The free version has some key features including alerts, Birthday reminders, Customizable widgets, calendar reminders, notes, colored tasks, and also missed call reminder! It can be in sync with an Android Wear smartwatch and can be activated by voice recognition. The pro version is a paid version, with more features. Still, BZ reminder is a great reminder.
4. GTasks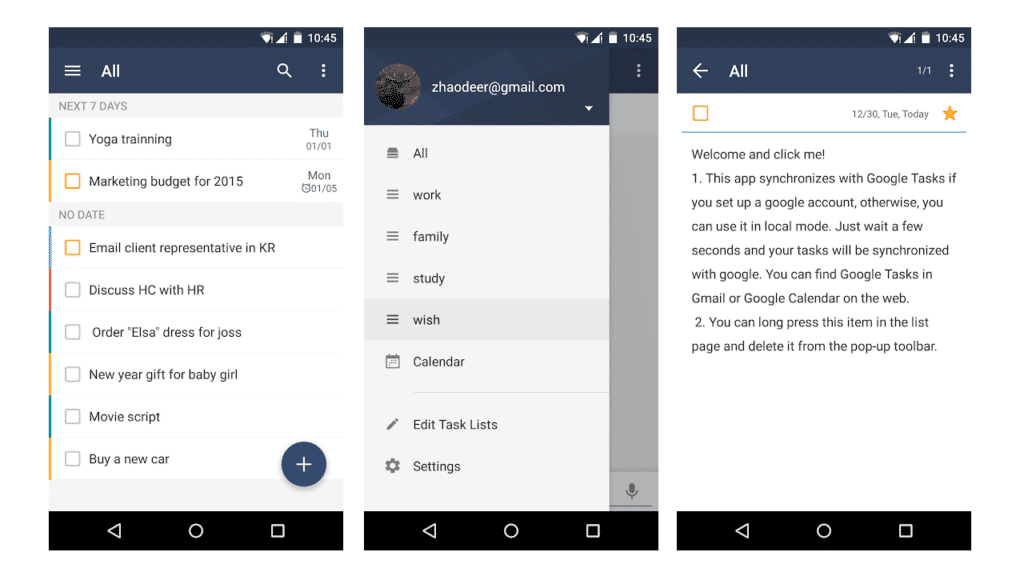 This app syncs with Google Talks and also Tick Tick. Both the syncing make it super cool. It has an Android 4.0 style yet features the new material design. You can do all sorts of reminding and can create excellent task lists and lets you share tasks and even birthday wishes right from the app. You can also set voice command of 'note to self' through Google Now. The tick integration can replace the tick tick apo itself!
5. Just Reminder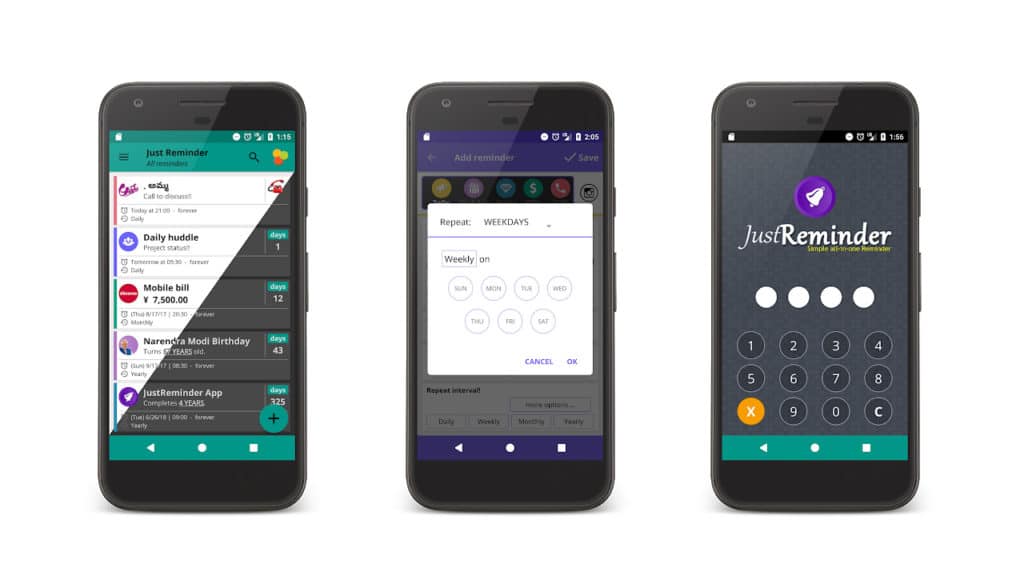 Developed by AppHouze Co, Just Reminder is simple yet an all-rounder app for Android devices. It supports all essential features of a reminder app and also supports notification h. It also supports Smart Bill reminder which reminds you each day till it gets 'Paid'. Just reminder supports backup and restores as well. The free version may have some ads, which are absent in Premium version.
6. Ike – To-Do List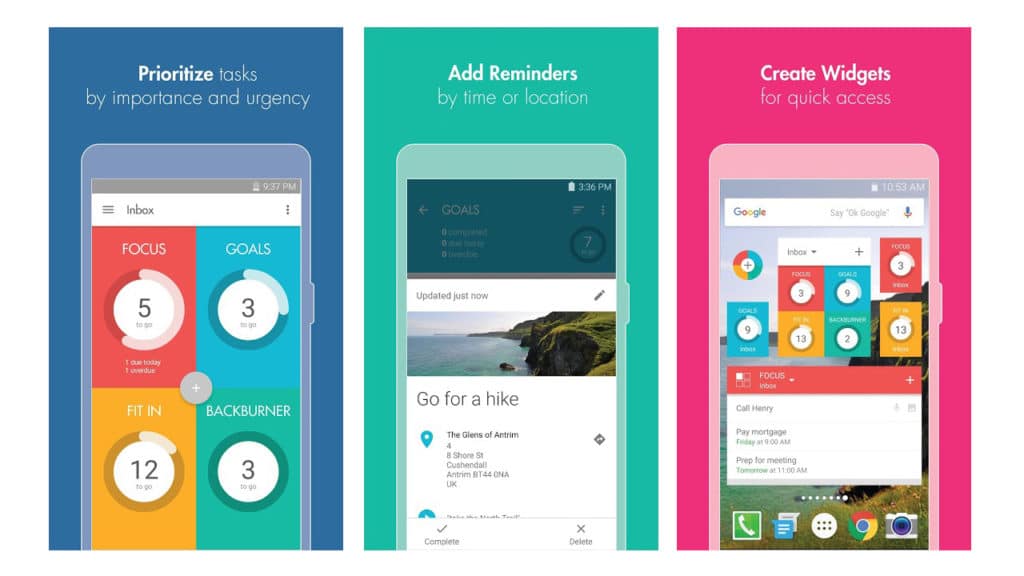 This app by the Pocket universe is a playful organizer of tasks and supports President Eisenhower's Priority matrix. You can prioritize tasks, lists, and all reminders. You can add audio and images too in reminders and even put a due date to it. Ike allows time-based and location-based reminders. Its widgets also are quick and powerful. Ike is one of the best free reminder apps available on play store.
7. Life Reminder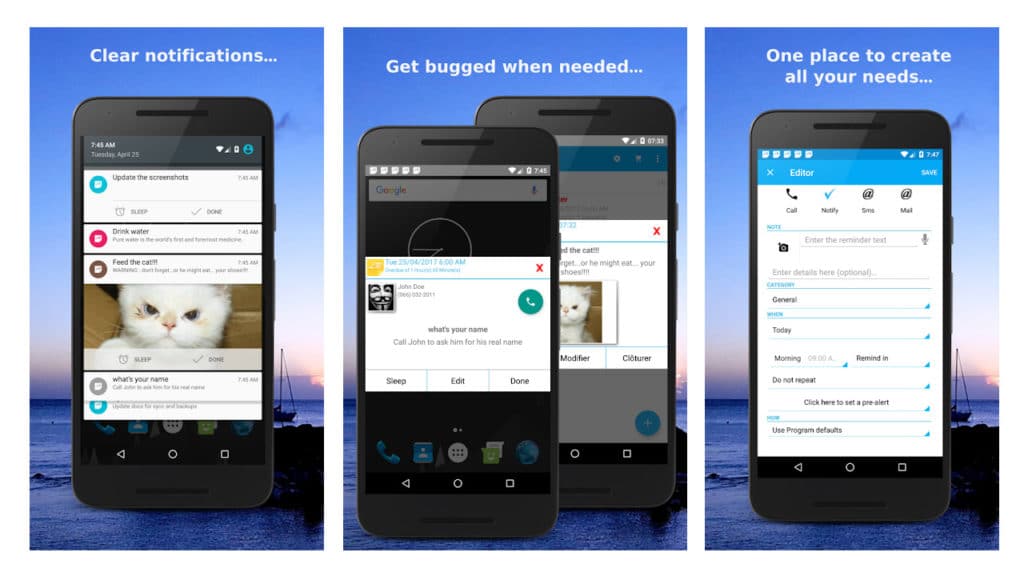 It is one of the simplest apps out there. It supports many languages of which some are Spanish, French, Danish, Russia, etc. Life tasks like birthdays, reading a thing, Calling someone, all can easily be done with Life Reminder. You can pre-type your messages, and at the right time, it will be automatically sent either by email or SMS.
8. To Do List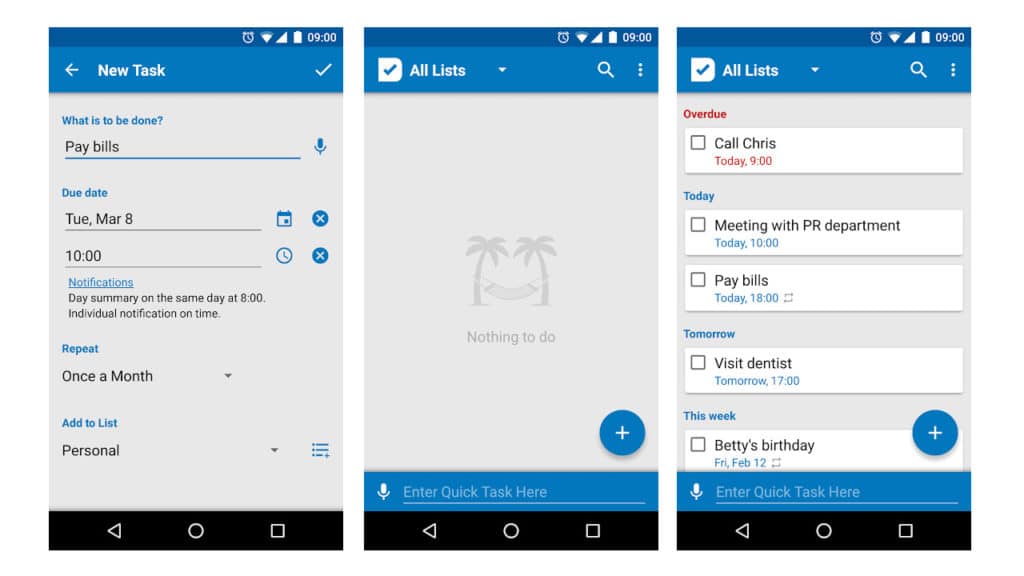 Developed by Splendid apps, it is also called SplenDO. It is surely a smart task manager. It allows grouping of tasks yon handle them carefully. The home screen widgets. You can also set notifications which pop up only after knowingly your needs. Sync it with google, and you can access it on every device connected to the internet.
9. Google Keep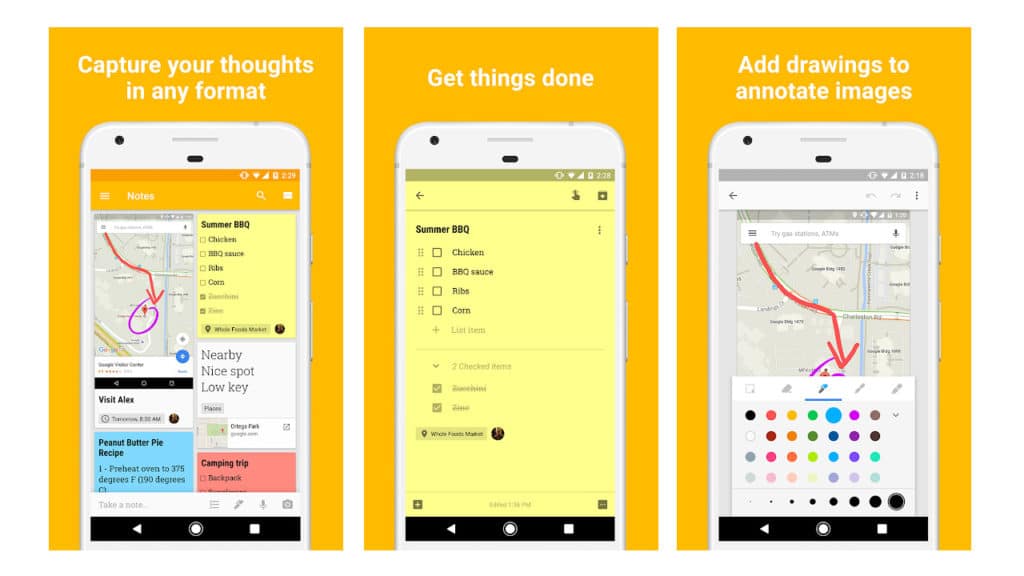 Most underrated yet one of the best apps for taking notes and creating lists available on Android. You can share notes through the collaboration feature. The most innovative feature of Google Keep is to set notification of reminders to pop at specific locations. For to-do-lists and location-based reminders, it is the best app, else download anyone from above for a more diverse range of features. It is free!
10. Any Personal Assistant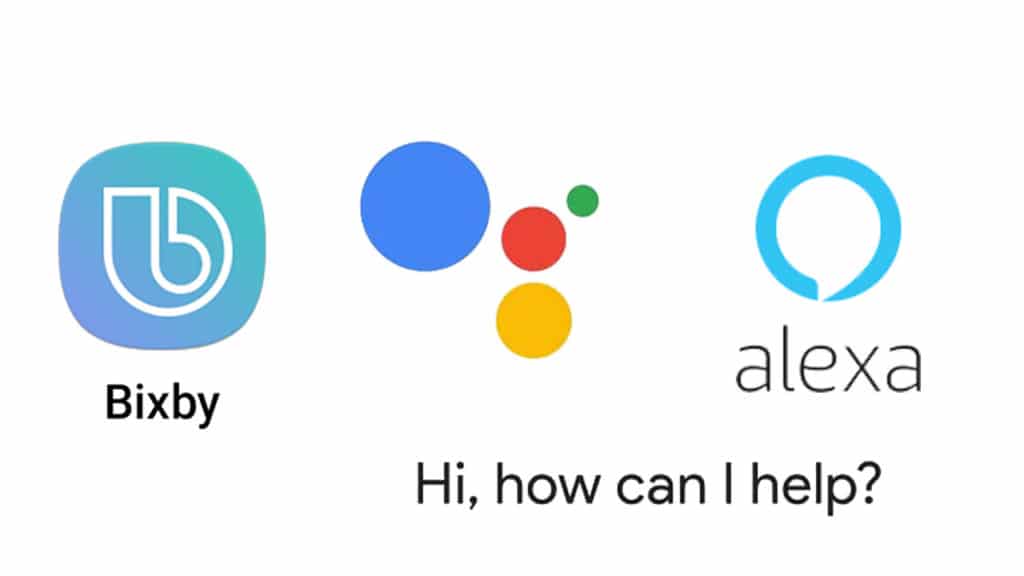 Be it Alexa, Bixby or your friendly neighborhood personal assistant, the Google assistant, each allows for setting up alarms, setting reminders and even helps you in reminding by voice command, since they have TalkBack feature. So, just hit the button to open any personal assistant and then ask to save a reminder. On Android, most popular personal assistants are Bixby, and Google assistant and both are great at reminding things.
"Best Reminder Apps for Android"
The list available above contains great Reminder apps. Some of those come with the premium subscription, while some are free. Though the list is a shorter one, there are some other great reminding apps too on play store which couldn't make this lists. Some of them are TickTick, Wunderlist, Evernote, Tasks free, Remind Me, To Do reminder, etc. For keeping a free app, go with Ikea, Google Keep, Any.do, etc. For premium version, get yourself todoist or Any.do. Rest, try remembering more things, and instead of reminders, create to-do lists. This can greatly help you remember more things. Or, just choose one from the list!