BOMBitUP Apk is an android app that let you make more fun among your friends. It is one of the best SMS Bomber apk for android device out there. This fantastic application made by Sanchit Gera from India.
Previously it has fewer features like only bombing messages to only Indian telecom services, but now it has some amazing features that will help you to bomb the text messages in US telecom services and UK telecom services also.
Not only this application will be helping you to bomb the text messages, but also this is useful for Email bombing. Yep, you heard it right! The latest update has this feature that will help you to take revenge on Spam Mailers.
You may also like:- GBInstagram Apk Download Latest Version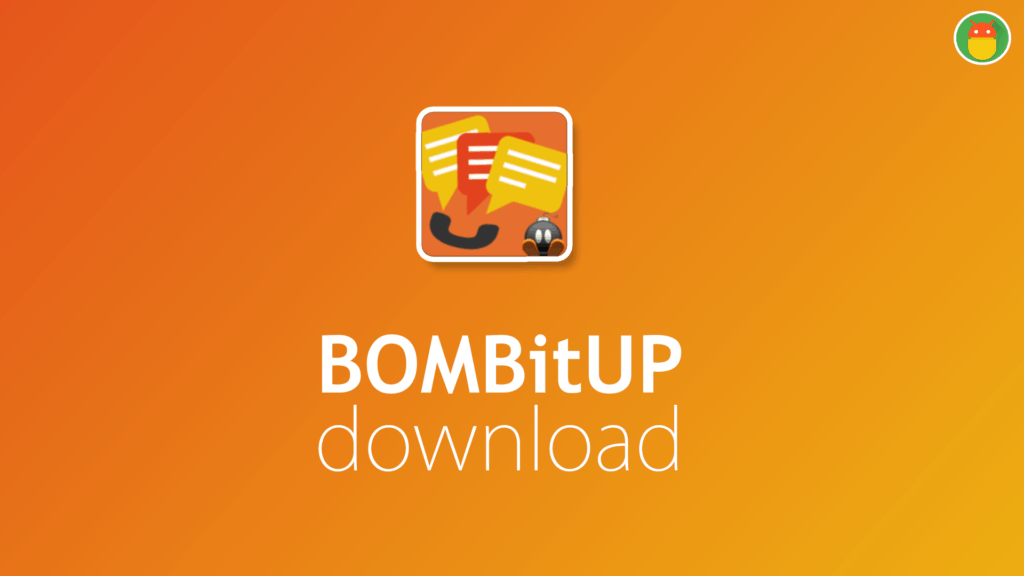 If you feel tiresome in the searching of best SMS bomber apk for the android device, then you are at the right place, and you don't need to go for another one mostly.
Also, We have previously shared the another best SMS bomber apk called SMS Bomber. Udit makes this app for kicking out the online SMS bomber sites. You can also try this app for testing purposes.
But the main drawback with this app is that will ask you to purchase the credits to send the messages anonymously. If you are wealthy enough, then this app is best for you in the aspects of anonymity. Otherwise, BOMBitUP Apk gives you the best of the best.
Download BOMBitUP Apk for Free
We are always trying you to give the best experience while accessing our site. That is why we are away from the Unwanted Surveys for downloading apps and Automatic ad popups.
Download this BOMBitUP Apk from our secure servers from below. If you want to donate some bucks to the developer, then follow this PayPal link that gives more energy to the developer and let him introduce more features on it.
Version Info
| | |
| --- | --- |
| Name | BOMBitUp |
| Version | 4.06.5 |
| Developer | RomReviewer |
| Size | 8 Mb |
| Last updated | January 01, 2023 |
Features Of BOMBitUP Apk
SMS Blast – India & U.K (Can be used for Blasting the Someone's mobile by sending the Unlimited Messages)
SMS Blast – U.S.A (Only for USA mobile Operators)
Custom Blast (You can send the custom messages certainly with the Way2Sms gateway)
Call Blast – Send the limited Missed calls to the friends. (Only one call will be sent to click and only 5 clicks per day)
Email Blast – Send Unlimited Emails ( Need some guidance if you want to use this feature – Video Tutorial)
Protect List – Protect the Mobile number from being bombed. One of the most desired features that will give benefit to you only.
Updates – You will get the Updates directly within the app.
Email Protect – Protect your email from being bombed.
WhatsApp Spammer – Spam your WhatsApp contact by sending tons of messages.
How to Install & Use BOMBitUP Apk on your android device
After downloading the BOMBitUP Apk from the Above download link,
Enable the Unknown Sources in the Android Setting by going through Settings >> Security >> Unknown Sources.
Now, Click on the Apk file and Install it.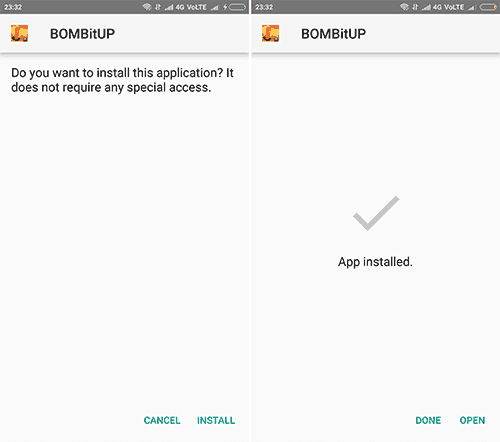 Open BOMBitUP App and drag the menu from left to right.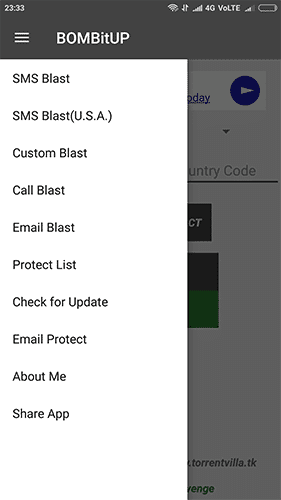 Choose the SMS Blast option and enter the number which you want to bomb.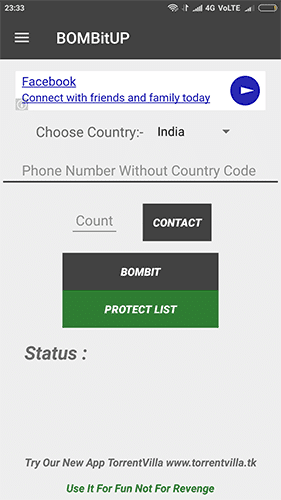 Finally, enter the count and tap on BOMBitUP button. That's it. Watch the fun.
How to protect your number from Bombing
Open BOMBitUP App and click on the 3 lines which are on the top.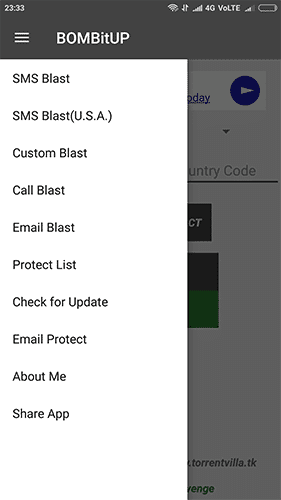 Select the option called Protect list.
Enter your name and Mobile number.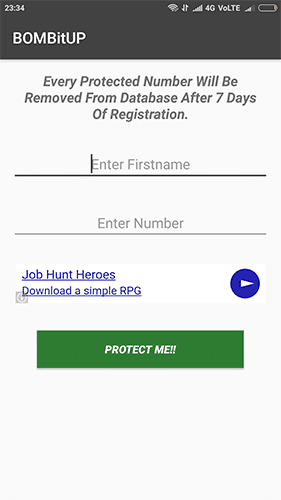 Finally, click on Protect Me!! Button. It will be valid up to 7 days only. After that, you need to follow this steps again to protect your number in BOMBitUP Apk.