Have You faced the " Device is Not Certified by Google " Error On your Android Screen while accessing Google Playstore or Some other Google APP? If yes, then Your device is Uncertified. Currently, many devices are facing this issue due to lack of Certification. You have to register for this issue or Install Magisk Module to get rid of the Problem. In this Guide we have given the best possible ways to eliminate the Device is Not Certified by Google Error on your android device.
Device Certification is one of the significant decision taken by Google to create a safe and secure environment. We have been Using Android OS over the years on our Smart devices. All the Demand and Rage got this OS with its Highly Customisable habitat. Now, Google is likely to Certify the android devices by conducting numerous Compactability tests. Manufacturers need to register and pay for device certification to run the Google apps (GApps) on their devices. Pricing varies from 100$ to 150$, and it may create an effect on the final price of the device.
How to Fix Device is Not Certified by Google Error
Google has introduced the Play Protect which is Running in the Background to prevent Malicious Attacks, Adware and like those. Even you can find this Play Protect badge in the PlayStore, and you can Add Some Setting to better detection over the apps.
The first thing you have to do was Check PlayStore App when you got the error like Device is Not Certified by Google.
Open PlayStore APP
Drag the Menu
Head over to Settings
Scroll Down to bottom then you will find the Device Status whether the device is Certified or not.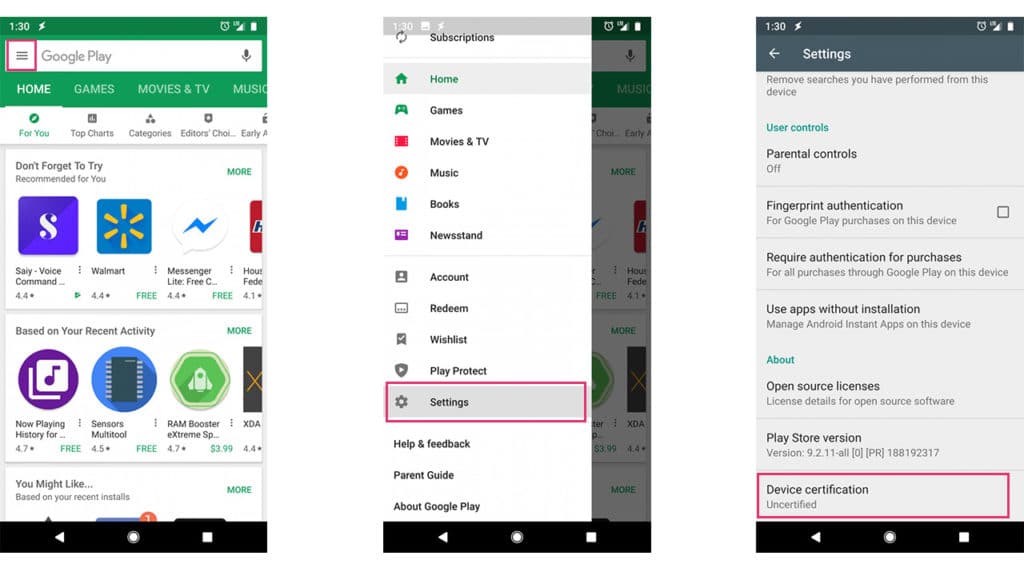 What are the possible causes for this Certification Error?
As I mentioned earlier, This Certification is entire to Improve the Users Security and Prevent from being attacked. So, below are some Possible causes for this Error.
A manufacturer needs to pay for the Licence from Google to get the Play Protect badge.
Device hardware specifications can handle the Android Version.
License for the Android OS Should not be Expired.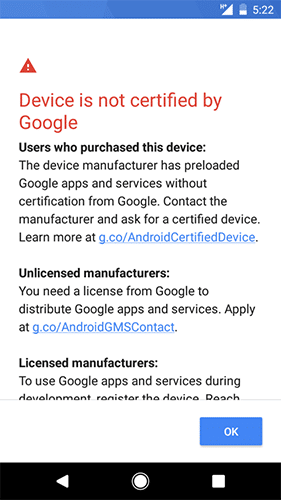 We have Found two methods to Fix Device is Not Certified by Google Error. That will help you to Unblock GApps on your device, and You Can use without any error in future.
Fix this Problem by Registering your Device with Google
One of the Simple method to Certify Your Device, but it might not work with all devices. Why because this method will work mostly on pre-approved devices. If your device already registered with the google by the manufacturer, then this is the best way to be certified.
Okay, Now follow this procedure
Step 1: Install Latest Device ID APP from PlayStore or Download APK from Here
Device ID APK
Tap on APK File and Allow this Source Option (You need to allow Unknown Sources when you install apps From other PlayStore)
Install it Successfully.
Step 2: Once Installed the app. Open the Device ID APP to know your Google Service Framework (GSF). This ID Plays Vital Role for Registering the Device.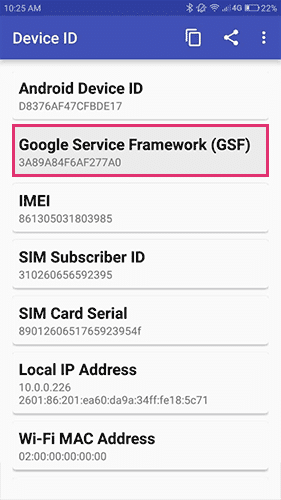 Step 3: Now, Copy the Google Service Framework ID (GSF ID) and Visit Google Page for Registering your device. Paste the GSF ID into the Black field which is available at last.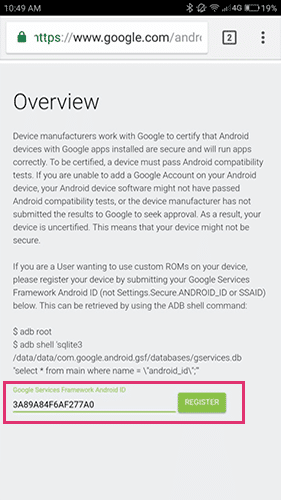 Step 4: Hit the "Register" button.
Now, it will show up the Unique Register ID for your Request. Remember it who knows when it is needed. This method will work for most of the android devices. If you are unlucky enough then it might not Certify your device.
Meanwhile, there are many apps available for downloading Android APPs. In that list, Most Popular one is Yalp Store. You must give a try to those and one more thing there is a Project named MicroG.
MicroG will help you run Google Services without Gapps, but this development is in beta yet. Once it is Fully Completed, then it might be the best alternative for Google Services.
---
If Above Method is not Working for your Device then No problem. Always there is an Alternative to solve the issues.
Are you a Magisk user?
If Yes, then Magisk Modules will help you to certify your device.
Fix Device is Not Certified by Google with Magisk Module
We have Two Magisk Modules to fix the issue. Actually, these modules will edit the Build.Prop file on your device with Super User access that may lead to certification. Values which are changed by these Modules will not be permanent.
Once you deactivated the Modules from Magisk Manager, then All values get back to Default ones. So, no need to worry about this thing. However, Chances are high to pass the Safetynet while following this Procedure.
Still, Don't know how to install Magisk Manager and Magisk Su then this guide will help in that case.
with Device Spoofing Tool Magisk Module
Step 1: Download Device Spoofing Tool Magisk Module by Dreamer(3MF) from Below. Two variants are available for this Module based on the MagiskSu Version. Download As per that.
Step 2: Open Magisk Manager APP and Drag the Menu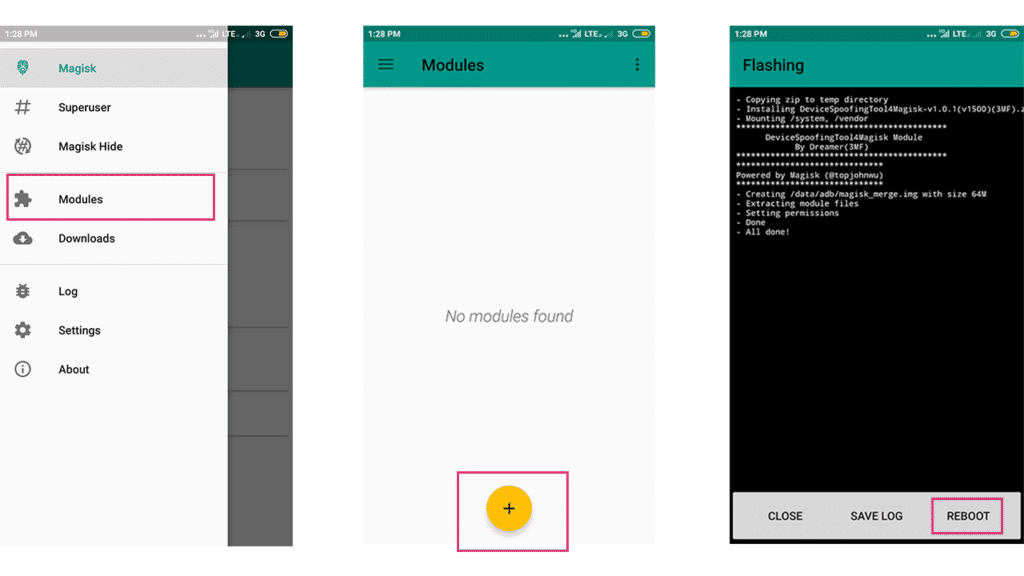 Step 3: Head Over to the Modules Section and tap on the + icon.
Step 4: Choose the File which is Downloaded from the Above. Wait for a minute to install successfully.
Step 5: Finally Do Reboot to Activate the module.
This May help you to get rid of Device is Not Certified by Google Error. If not then follow the below Procedure for Another Magisk Module.
with Play Store Visa Magisk Module
Step 1: Download Play Store Visa Magisk Module developed by ttimasdf (Xda Forum Member) from below.
Play Store Visa – Download
Step 2: Open Magisk Manager APP and navigate to menu section.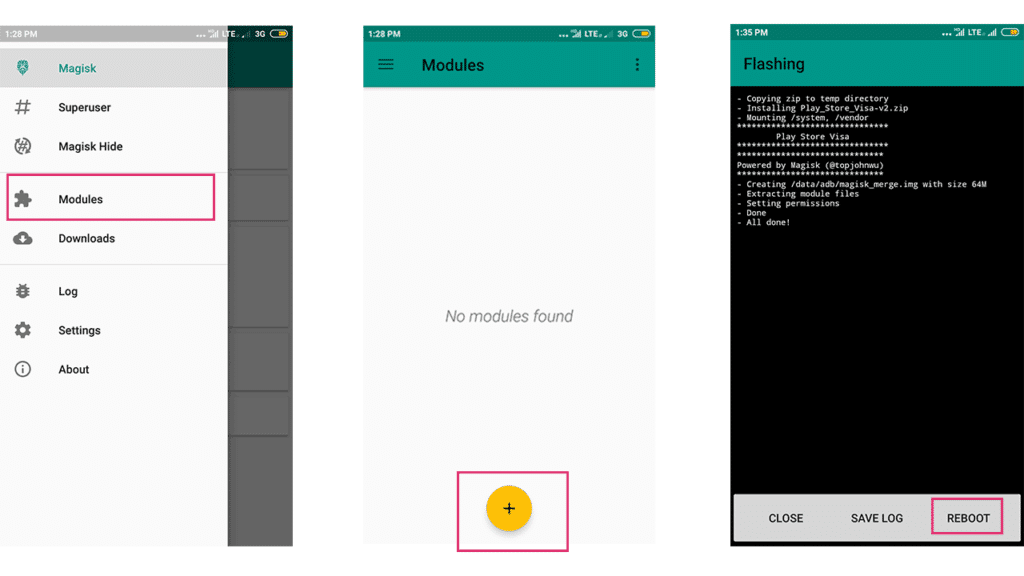 Step 3: Select the Download Section and Choose + yellow Color Icon (or) Search for Play Store Visa.
Step 4: Choose Play Store Visa.Zip file from the Storage (or) Click on Download button and Install.
Step 5: Sit back and relax. It will install the module.
Step 6: Do Reboot. Check your Device status in the PlayStore app whether it is fixed the Device is Not Certified by Google Error or not.
Final Words:
Fixing Device is Not Certified by Google Error is not only help you to Run the Gapps but also Specific Apps like Netflix which dont run on the android device with Safetynet fail Status. These methods definately work in that aspect. Now You can able to run banking applications and highly secured apps.
Are you curious to Know what Android Web view is? Look Here
If any problem arises while following our tutorial, then Please comment below. We will help you out ASAP.