MMsuperPatcher is a Live Patcher for Mini Militia Mod : Doodle Army 2. This App allows you to modify the Mini Militia (Genuine App) which we will download from PlayStore. The best thing is the App doesn't need Root privileges to access the files of Mini Militia. You don't need to wait much time to patch the app as like the ToggleMod. In this tutorial, we will share the Best Mini Militia Mod apk for game lovers.
In ToggleMod Case some drawbacks have revealed like Infinite Patching while applying MODs to Mini Militia Mod, Game Stuck in between the game when playing, and some other says features are not reached up to our mark. But there are no problems with this patcher as like a ToggleMod. (Check Out our video tutorial Regarding Toggle-Mod)
A particular type of MOD injection method has used on this Patcher, which totally differs from the what Sk Budheen did for ToggleMod. That is why the patching time of the MMsuperPatcher has less. It feels like doing the main settings on mini-militia. I think all you guys through with this information. And us now strongly recommend to the guys who are willing to take revenge on your all-time Crushers in the Game with this Mini Militia Mod apk.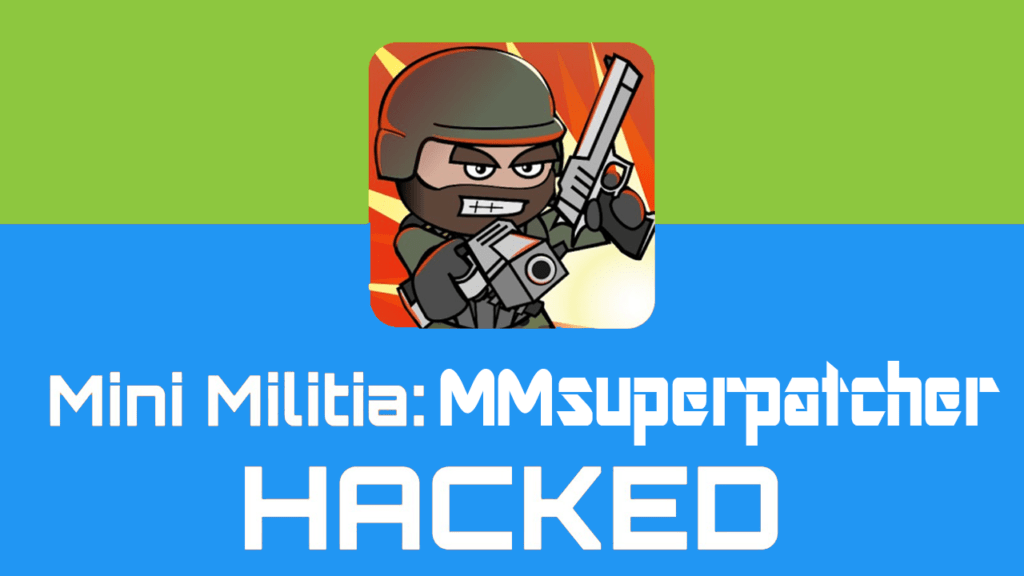 Coming to the Game, that was an excellent experience to each and every person who was playing. This Special Features of Mini Militia develops our creativity, inviting our friends as Buddy enemies and the multiplayer option is always insane to every college mate which makes connected to each and everyone who involved in the games.
How To Hack Mini Militia by using MMsuperpatcher
Many want to live immortal, Many dreamt about it, Though it might be Impossible, that Mini Militia makes us immortal through the entire game. The key features for success are playing a trick, where the opponent couldn't at least imagine. Whether it may be a game or outer world the energy mustn't be drained, and the life shall be interesting if you revive for every second.
Our Powers or Skills are not enough to fight against online players. Because they might have Pro Pack or Special Tricks or Unique competencies in this Game. We need to purchase the Mini Militia Pro Pack from the Google Play to avail these things. But From this Guide, You can avail the extra avatar customization items, dual wield ability, and online weapons such as the rocket launcher, sniper rifle, laser, saw gun and more!
About Developer:
This Live Patcher has Developed By Kuldip Patel Founder Of Mini Militia Mod aka KMods. Also, we have shared Mini Militia In–App Mod Selector from the same developer that will Blow your mind. Unfortunately, this MOD development has stopped (Take a look). He is studying Computer Science & Engineering in Surat, Gujarat and work as Security Researcher, a passionate blogger, Programmer, Android Developer, Ethical Hacker.
Features Of MMSuperPatcher:
You Change the Mods while Playing the Game by tap the setting/Tool Icon (Best Part)
Working With Original Playstore App
More Than 20+ Mods Available to patch.
You can Create the Shortcut for a Moded game without Interfered with the original game (Both
the apps like original and Moded in the same device)
Works Without Root
Connecting to Genuine Player servers only (No-Mod Servers)
Quick Patching (don't even take 1sec)
MMSuperPatcher Mods List:
Mini Militia Pro Pack Unlock
Store Items Unlock
Flying Power Hack (unlimited)
Ammo & bullets Unlimited
Unlimited Health
No Reload (Your Guns will never reload)
Bullet Per Shot (You can set how many bullets will fire in a single shot)- Like 1shot kill
Zoom Level (You can adjust the Zoom level up to 8x)
Skill As you like (You can set up to 99)
Select Primary Gun, Secondary Gun, and Bombs on spawn.
Anti Gravity
Dual Wield (You can Pick any guns at a time)- Not Recommended. It may freeze the game on Quick Play
Instant Respawn and IOS symbol
Speed MOD (Your speed will increase to 3x)
Bullet Speed Mod (Bullets Speed will be Increased)
Died by guns only, Died by Bombs Only and 2 More.
No Dual Through- you can get through bombs without losing dual guns
Magic Bomb Through- You can get through bombs continuously.
Death sprayer- Fire like a crazy. Only working with some guns- SMAW, Saw, Mini Gun, snipper and RG6
New Guns added – MINIGUN, TEC9, RG6 (Mortar Launcher) and XM8
Requirements:
MMSuperPatcher v2.3- Download- Download Below
Mini Militia v4.2.8-Download- Download
How To Download and Use MMsuperpatcher
Step 1: Download and Install the MmsuperPatcher apk and Mini Militia from the Requirements Section.

Head Over to MMPatcher and Open the app, then you need to grant the Permit drawing apps.
Now, You have two options:
MMSuperPatcher v2.3- Google Drive
Mini Militia hacked v4.0.36 with MMSPv2.1 (Live MOD)
Step 2: Now, You have two options:
Create a shortcut for Modded game. (If you select this option you will get a Shortcut on Modded game, and You can directly access the Modded Game without Mods Selection)
Launch the Game with Live Patcher (Follow the below steps)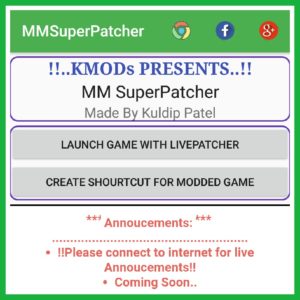 Step3: It will Automatically Open the Mimi Militia App, and you will get Setting/Tool Icon on Top left Corner of the Mobile Screen. You will Directly Access all the Mods of MMsuperPatcher by a tap on the Setting Icon.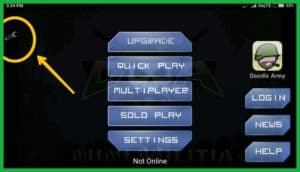 Step4: Now, Choose the Mods from 20+ according to your wish. Minimise the MMSuperPatcher by tapping on the setting/tool icon. You can select or deselect the mods while playing the game.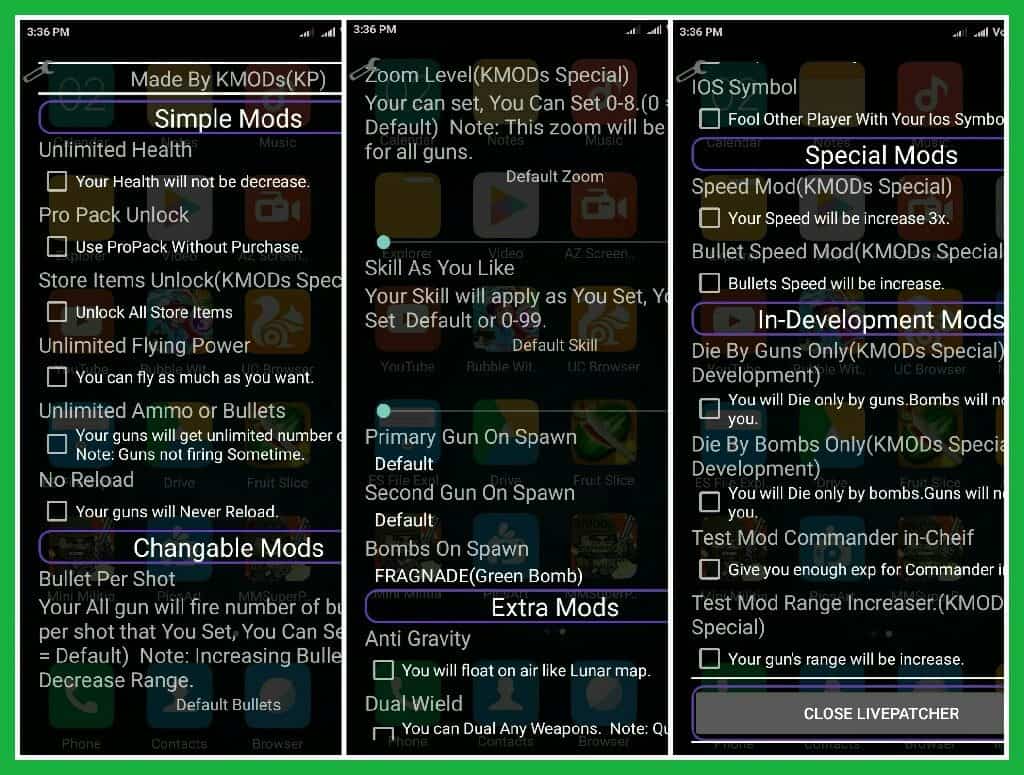 Video Tutorial for Mini Militia Mod:
Final Verdict:
I hope You will like this tutorial; This was the Complete Guide for MMSuperPatcher. That will fulfil all your needs on Mini Militia Online Play because this was having a unique feature like Live MOD. Through this, you can easily Add or Remove the MODs which is provided by MMPatcher while Playing. Recommended you to use this Mini Militia Mod apk to feel the awesome experience while playing the game.
Being monomaniac is somewhat unhealthier to our personal lives, it should be treated as the only game, losing game should be taken as a sportive, celebration of victory should not exceed and effect inner feelings of others. We might be enemies for a while, but friends forever.
Share this Article with your buddies that will help them to know about this MMsuperPatcher.
Thanks for visiting our Blog, Keep Visiting for more Mini Militia MOD s for Different Games. If you found any issues feel free to comment below, we will help you out ASAP. Contact Us On Facebook: Page | Group & Twitter.