You might hear about the Sms Bomber online these days frequently. Why this much of craze got for this kinda thing? Because this is the best fun way to take revenge on the person without harming personally.
By just irritating them, you would get some ego satisfaction. For this purpose, most of the people using some online sites which can be capable of providing free SMS bombing feature for pranking friends.
Some of them are failed to give you the best working SMS Flodder. But here you will get SKTech SMS bomber Apk for Android devices with better features than others.
Even you might face some bombing messages from your friends, and now, the turn is yours. Use our best app to send the Bulk messages and annoy your friends. Indeed they don't know who is the guy behind such a crappy SMS every time. The best part is you are completely anonymous.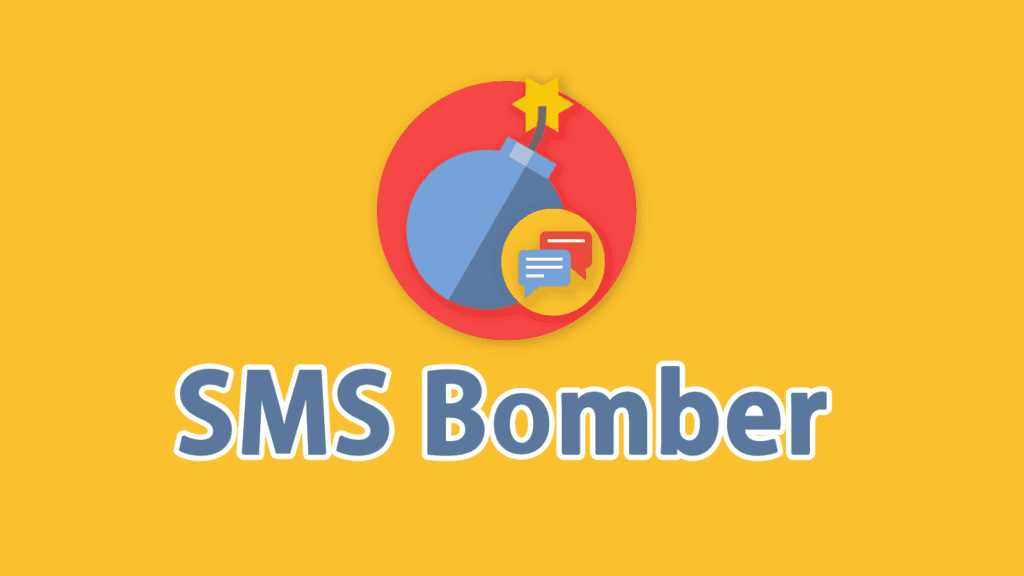 What is SKTech SMS Bomber Apk?
SKTech SMS Bomber APK is also known as Text Bomber which you can use for sending the Bulk messages for the Mobile operators in India. The app is now working only with Indian numbers, in future, they may give support for international numbers.
Also, Google has the project based on the SMS bomber you can check from here. Currently, it was an Android App. Be patient until it is available for Users of IOS.
A simple concept for sending Multiple SMS to friends or victims, just ruin their day for fun. The app is made by Shubham Kumar a member of the facebook group XDA-OFF Topic.
Version Info
| | |
| --- | --- |
| Name | SKTech Bomber |
| Developer | Shubham Kumar |
| Size | 6 MB |
| Last updated | March 14, 2020 |
| Version | 2.7 |
Download SKT SMS Bomber for Android
There is a limit to sending Multiple messages to the victim; you just put a phone number without +91 in the field of number and tap on the start process. It will bomb until your count runs out.
Sit back and relax, it will send SMS via various message service provider API's. This is entirely free to use but don't use with unknown numbers that may lead you into a problem. Play safe and set some limits. If you want to help the developer, then donate some bucks via Paytm
Download now from below.
Features
Unlimited SMS you can send with this app
You can see the Server Status
Choose the Contact Number from the Phone Book
Directly you can update the app
Protect your number from Others.
Custom SMS Sender
Call Bomber with set count option.
No need to register on this app.
Working with DND Numbers.
Custom SMS.
Limitations:
Only working with Indian Mobile numbers (Support to other countries might be added soon)
Only for Android Users (We will update the post when it comes to IOS)
Disclaimer:
This Software only meant for educational purposes. Neither developer of the app or I doesn't take responsibility for any outcomes. By using the application, you agree to this.
How to install SMS Bomber APK?
Step 1. Download the latest SKTech SMS Bomber APK from above.
Step 2. If you didn't enable the unknown sources before, then you should get pop-up like this when trying to install the app and Grant the permissions.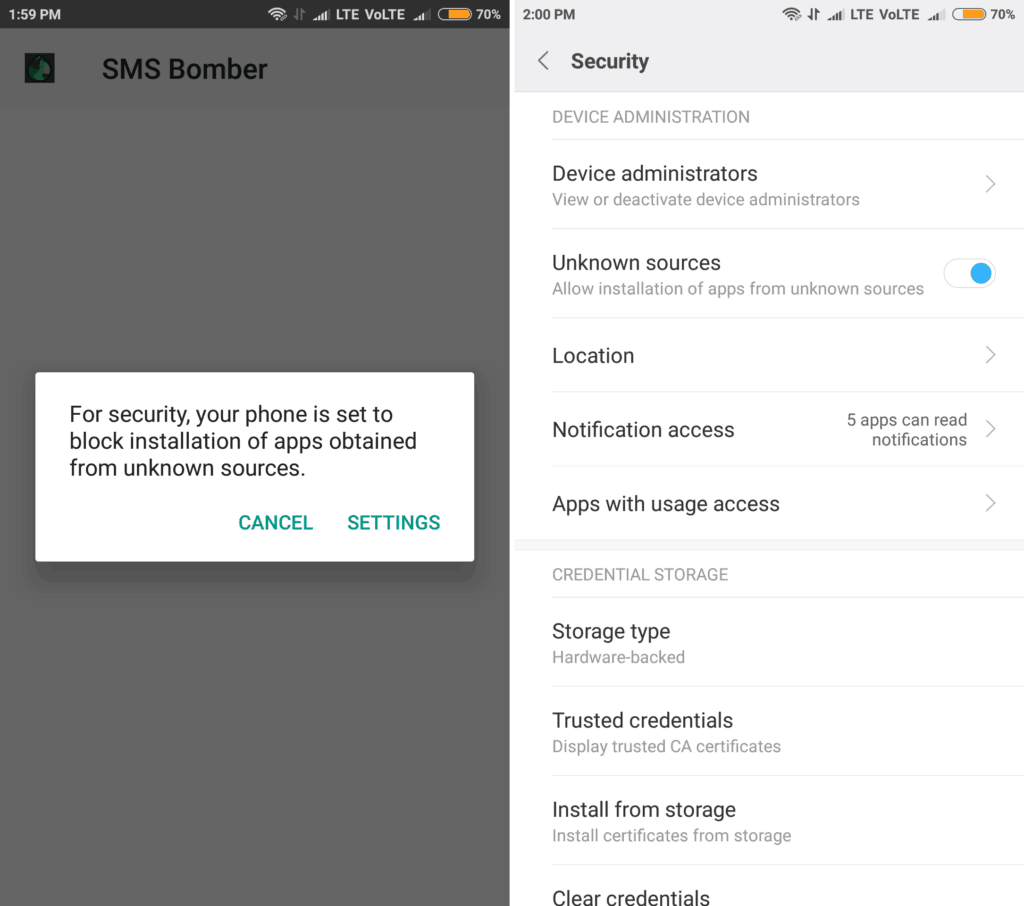 Step 3. Install the app and Open it.
Step 4. In the home page, you will see the phone number field. Now, type the phone number manually, or you can choose the number from the phone contacts.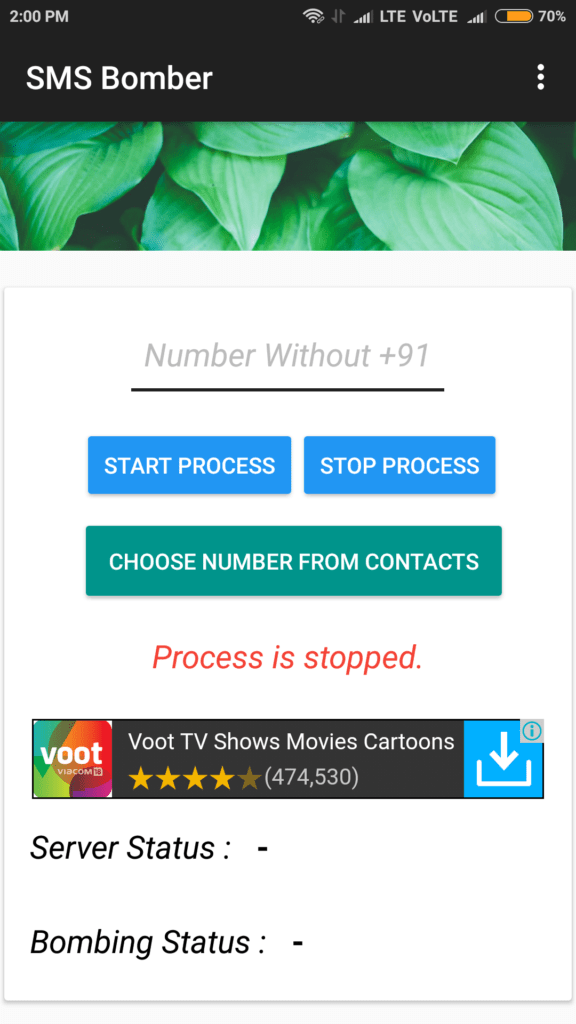 Step 6. Finally, click on the Start Process button. It will send the messages until you stopped the Process.
How to use Call Bomber?
Step 1. In the home page of the SMS bomber apk, you can see the menu button which is at the top right corner and tap on it.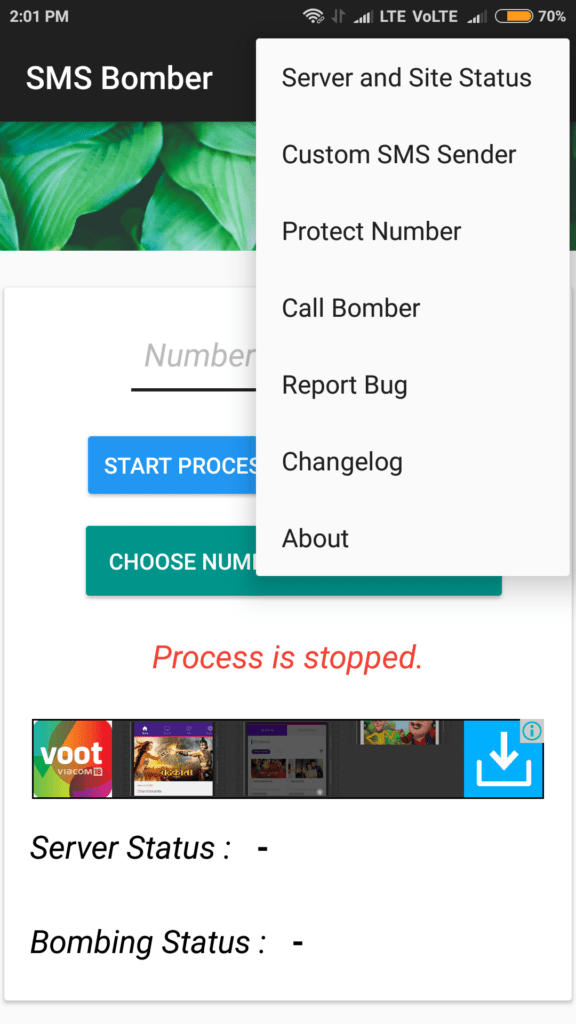 Step 2. Navigate to the call bomber option and tap on it.
Step 3. Enter the Phone number manually or select the contact from the phone.
Step 4. Click on Send calls button that's it.
How to send Custom Anonymous SMS?
Sending Anonymous messages is completely free. So, you don't need to worry about this at all. But there is a daily limit of 10 messages.
Step 1. Click on menu icon from the right corner of the apps home.
Step 2. Choose the Custom SMS sender option
Step 3. Type mobile number without +91 or choose from the contacts.
Step 4. Type the message which you want to send
Step 5. Click on the send message button. That's it.
How do I protect my number from bombing?
Step 1. After opening the SKTech SMS bomber, Click on the menu icon on the top right corner. Select the Protect option.
Step 2. Submit your mobile number without +91 which you want to protect from the bombing.
Note: Protect list will be deleted after 7 days.
SMS Bomber App from Sanchit Gera
I have another app called BOMBitUP which contains nearly the same features as like the above one. Developed by Sanchit Gera from XDA too. If you want to test that SMS bomber app too, then Just look into Video Tutorial and download from below link.
Video Tutorial
Final Words:
There is no problem while using this kind of apps. But keep in mind that you are using illegal apps. We are provided with the two best apps for bombing the SMS in bulk. SMS bomber for the desktop will be out soon; please stick to our blog for more stuff like this one.
Share with your friends and help us to grow. I will meet you in the next one.