Here is the guide to Recover IMEI number on your device. There are different methods to change IMEI. It will change from device manufacturer to manufacturer and Device Chipset to Chipset. by changing the IMEI on your device which would help you to get back your device from network errors. These errors may happen from when you change the Operating System of your Android device from Firmware to Custom ROM's. In that case, your device might lose some IMEI modules which are included by manufacturers according to your country. Also, we have shared the Android IMEI Changer Apk video Tutorial to Fix IMEI number.
We didn't guarantee you that give your device back to a normal state by following our procedure who are using Snapdragon processors. But who are using MTK Chipsets mobile handsets please follow this guide. Many people using this method for spoofing the Android apps which are giving Earning Companions. there are some other apps to change the IDs of Android devices like Device Emulator and Device Id Changer.
How to Recover IMEI on any Android Device
You might have spent many hours to fix an invalid IMEI issue when after rooting your device or Flashing a Custom ROM. so many searches you have been made on Google for how to change my IMEI number on the android phone or how to fix IMEI or how to recover IMEI number. Maybe nothing found useful or worked for you with this specific issue. If you lost your device IMEI that might cause Network Problems that will tend to you cannot make Calls and Messages. that's the annoying thing you ever experienced with your device. Now, It will solve by following our ultimate guide.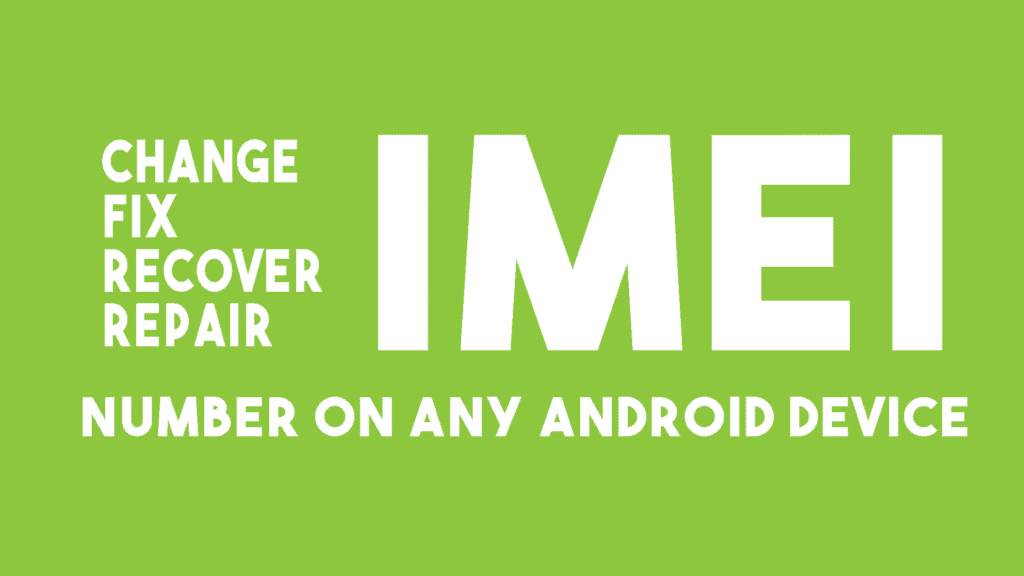 We have given a working method for MTK chipset devices with or without Root. there is an app called as Chamelephon app that will change the IMEI with needing of Root access. But some other apps like MTK Engineering Mode working without root access and Mobile Uncle app with root access can also change the IMEI but may not work in all cases. But these apps are only available to MTK Chipsets. What we do if we are having other than MTK processor devices? No problem guys, there is an app called Android IMEI changer apk masks the IMEI number that will be showing up when you are dialling *#06#. This app work with CPUs like Snapdragon and Exynos with root and Xposed. But not give that much performance as like above apps.
How to Change IMEI with Android IMEI Changer Apk
In this guide, we are showing IMEI changer app which is available to download on PlayStore. This is the First app made with the concept of changing IMEI on Android devices from the Developer Vivek. The safest way to change the IMEI that doesn't alter the device performance. To run this app on your phone, it needs Xposed framework installed on your device and it Must be rooted. The Xposed framework can only work with root privileges to access the root folders. And one more thing is, Currently Xposed not available on Android 7.0. So, This method not working with nougat devices or above.
Requirements:
Steps to Change IMEI With IMEI Changer Pro
Download Android IMEI Changer Apk From Below
Install Xposed Framework according to your Android OS and CPU architecture. If you not aware of this thing. So, you should follow this Tutorial.
If you have Xposed Framework successfully installed on your device. Now, Go to the Xposed Installer app and Select the IMEI changer Module on modules section.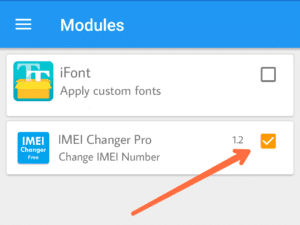 Reboot your device to enable the IMEI changer Module.
Open Imei Changer app. Now, you can see your Original IMEI Number and Current IMEI number.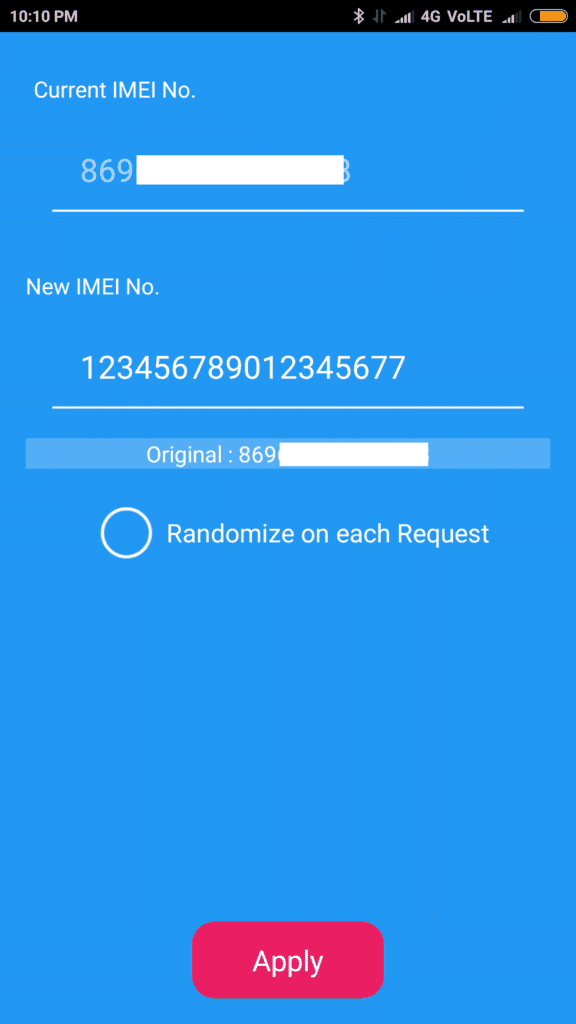 Enter IMEI number in the "New IMEI No Feild" and Just click on Apply button. If you are using IMEI changer pro app that will automatically put the random IMEI number in the New IMEI NO field.
That's it you have successfully changed your IMEI number. Now reboot the device and check the IMEI information by Dialling *#06#.
How to Recover IMEI with Chamelephon App
Chamelephon app is only working with MTK chipset devices. Many sleepless nights you might be faced with losing your IMEI number by updating Software or did something else. It can definitely help to get rid out of Service provider issue. Chamelephon needs the Root access and there is no need of Xposed in this case as like Imei changer pro.
Requirements:
MTK Chipset Android Device
Rooted Android Device
Chamelephon Apk
Steps to Fix IMEI with Chamelephon App (MTK Chipset)
Download and Install Chamelephon Apk from below or From Playstore
If your Intention is to change IMEI number instead of Repair IMEI. Please Backup the Original IMEI number by dialling *#06#. Now, proceed further.
Open the Installed Chamelephon App. Now, a popup will ask you to Grant the SuperUser Access. If your device is perfectly rooted.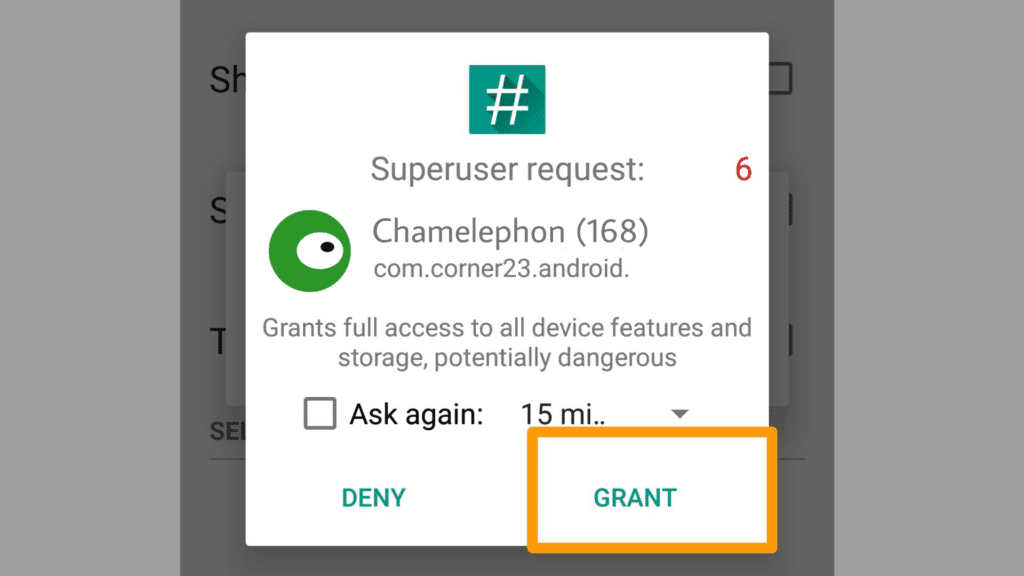 Change your IMEI by tapping on Generate Random IMEI button or Enter manually if you have Own IMEI numbers.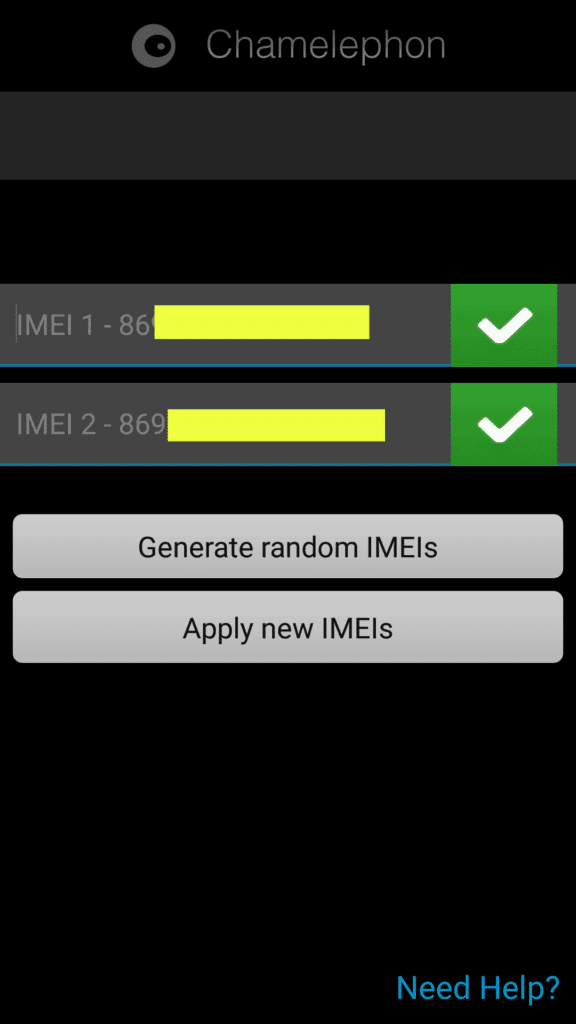 Note: Before applying the new values. you need to enter two values in the both spaces provided.
Click on Apply New IMEI's button. a popup will ask you to confirm that change. That's it.
Finally, It will Recover IMEI numbers of your device after rebooting.
How to change IMEI with Mobile Uncle App
Mobile Uncle is same as like the Chamelephon app. But it doesn't help you in Critical times. Mobile uncle app also for MTK chipset devices don't work with other chipsets. This app neet root privileges to work fully functional. Here are the below requirements to use Mobile Uncle app
Mobile Uncle Apk
MTK chipset Device
Steps to Fix IMEI with Mobile Uncle App (MTK Chipset)
Download and Install Mobile Uncle Apk from below
Open it up and you will see the Engineer Mode option > Engineer Mode MTK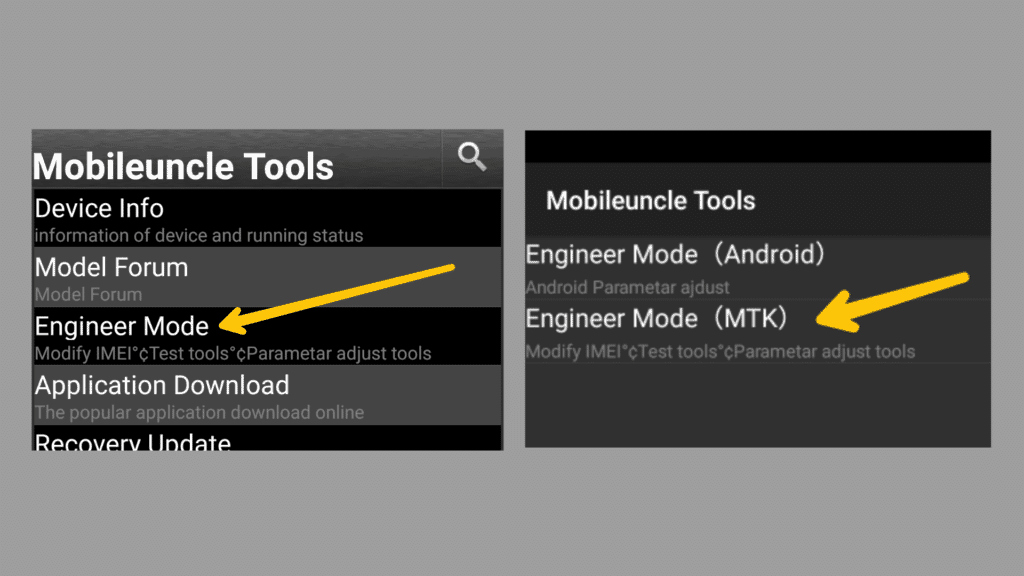 Select Connectivity tab and choose CDS information option.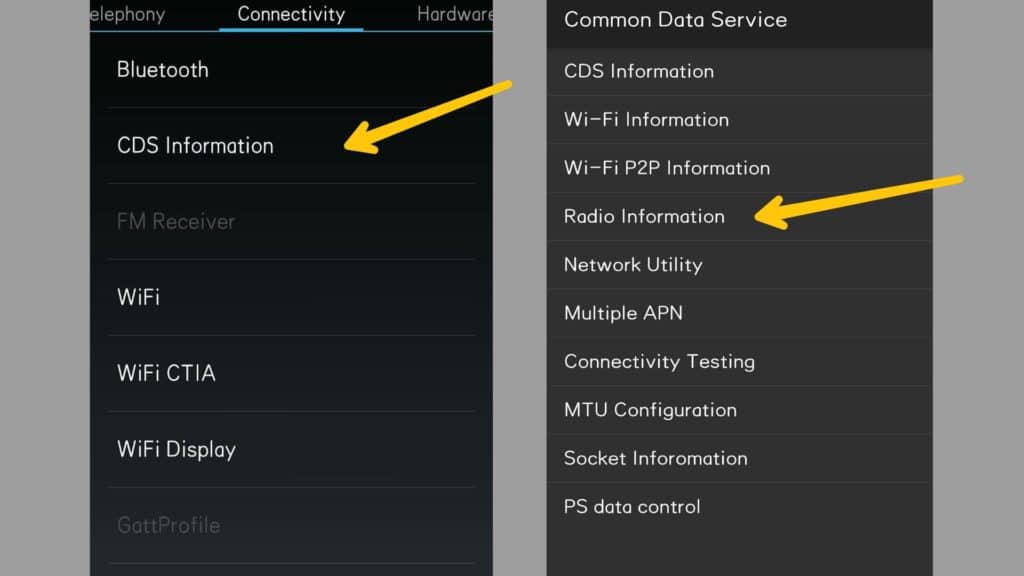 By going through CDS information you will see the Radio Information.
Now, Select the Phone which you want to Fix IMEI. Suppose, If you want to fix signal on SIM 1 select Phone 1.
By tapping On Phone 1 or Phone 2 according to your need. You will see the Option to enter IMEI number like below Screen Shot.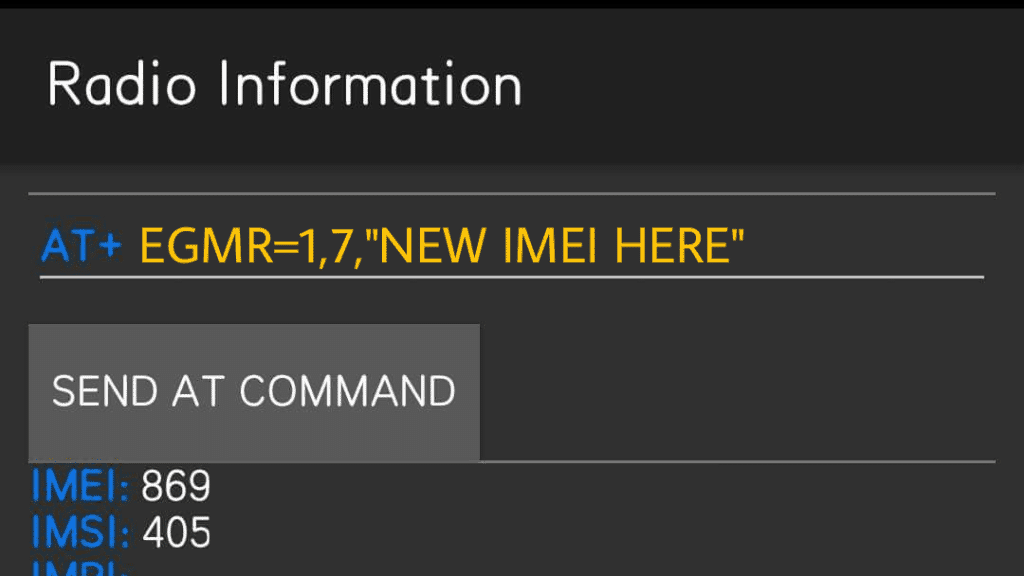 Now Place the below Code after AT+ Blank
For Phone 1: EGMR=1,7,"New IMEI number"
For Phone 2: EGMR=1,10,"New IMEI number"
Note: If you got an error like "command is not allowed in user build". Don't panic just add Space Between AT+ and EGMR. For Example; AT+ space EGMR=1,7,"New IMEI number"
Tap on Send at Command.
Reboot Your Android device and check IMEI by dialling *#06#.
Recover IMEI Number with MTK Engineering Mode
There is not much difference in between the MTK engineering mode and Mobile Uncle app. The only difference is MTK engineering mode does not require root access to change the IMEI. Already We have shared the full tutorial about this app, you can refer here or follow below procedure.
Requirements:
MTK engineering Mode Apk
MTK chipset Device
How to change imei android without Root (MTK Chipset)
Download the MTK engineering mode app from below or Playstore
Install the app and open it.
Select MTK setting on the app and Slide the connectivity tab.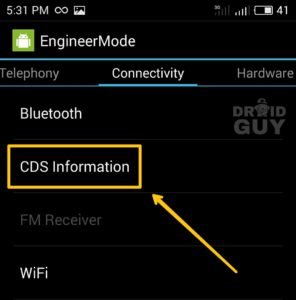 Head over to CDN information option and Tap on Radio Infomation.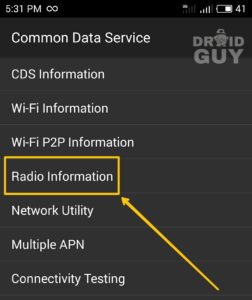 Now, You have two options
Phone1: To change the IMEI for Sim1
Phone2: To change the IMEI for Sim2
Select the any of the above options which you want to Fix IMEI. Now, You will see the Option for entering the New IMEI number.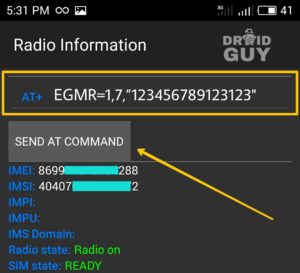 Just place the Command After AT+
For Phone 1: EGMR=1,7,"New IMEI number"
For Phone 2: EGMR=1,10,"New IMEI number"
That's it. Tap on Send at Command Button.
Note: If you found any error like "command is failed to send or Command Unavailable in user build" after tapping on the command button. So, Add Space between the AT+ and EGMR. Look like this AT+ space EGMR=1,7,"New IMEI number"
Reboot the android device to see the changes.
Final Words
Was this Useful! Please let me know in the comments. Complete Guide to Fix IMEI or Recover IMEI issue without needing of Computer. I hope you would love this article.
Changing IMEI Illegal in many countries. Main Aim our guide is to help people who are suffering from Invalid IMEI Issue. We are not encouraged to change IMEI for illegal purposes and not responsible for your activities.
Thanks for visiting and keep visiting our site for more articles like this and follow us on social sites.
Kindly share this article if it was helpful for you. Thank You.